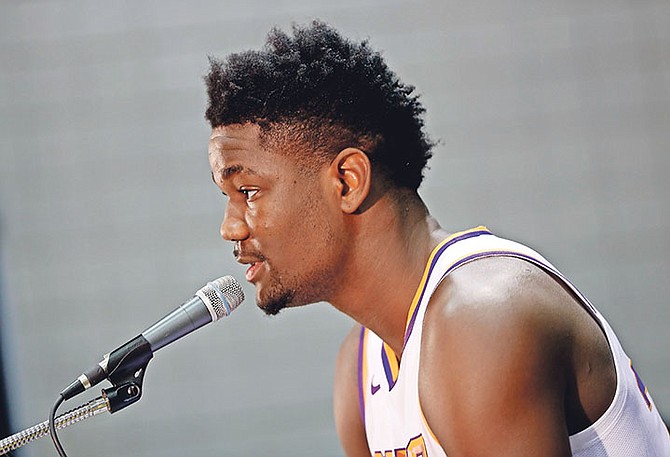 "Today was a hello, it wasn't that bad," Ayton said. "It's a lot of details, they are throwing a lot of stuff at you. Lot of defence. Lot of sets and plays. You just gotta stay dialed-in today."
Ayton's first impression on the NBA landscape produced his first league-wide award when he was named to the 2018 All-NBA Summer League Second Team.
Ayton led the team with 14.5 points, 10.5 rebounds and one blocked shot per game while shooting 59.5 per cent from the field as he was one of just seven players in the Las Vegas Summer League to average a double-double.
I'm a whole new person now." Ayton said. "Summer League, I was still Deandre from U of A. Now, I'm changed, like now I think my game upgraded a lot more."
"Rules are changed, I'm more down low now this year. For the rest of my career," Ayton said. "Ryan (Anderson) won't ever come in the paint unless he has a blow-by or a mismatch. The spacing is amazing. I have a lot more time and room to myself. I draw a lot more attention when it comes to pick-and-rolls. Trust me, there won't be any double-team, I can tell you that. That's good. It's going to be fun this year."
Anderson came to the Suns last month in a trade alongside De'Anthony Melton in exchange for Brandon Knight and Marquese Chriss.
A career 38 per cent three-point shooter, Anderson, who is expected to stretch the floor and provide spacing in the Suns offence, raved about Ayton's skillset.
We've had a lot of success being able to play off of each other, obviously I could give him some more space, but you can't really leave him alone down there. Guys might have to dig off of him, so I know we're going to have a really good dynamic in that way. He's done a great job just implementing the system," said Ryan Anderson.
"The system nowadays as a centre is a 'pick and roll' but he can do a lot more than that and coach is going to set up more plays than that. He is going to get so much more opportunities because of his ability to roll hard.
"Once he gets that attention down there that's when shooters like myself get wide open. I'm excited for this dynamic, it's going to be really fun. He's been communicating so well but we just want to encourage not just him but all of the young guys to really talk. That's important."
The Suns open the preseason against Buddy Hield and the Sacramento Kings at the Talking Stick Resort Arena in Phoenix, Arizona, on October 1.