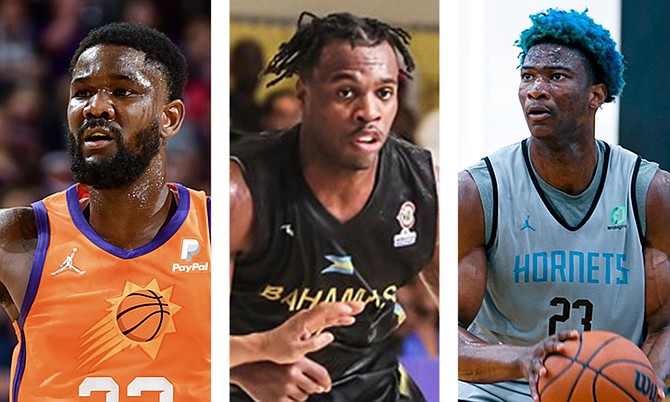 DEANDRE AYTON, BUDDY HIELD AND KAI JONES.
As of Tuesday, August 16, 2022
#By BRENT STUBBS
#Senior Sports Reporter
#bstubbs@tribunemedia.net
#The Bahamas Basketball Federation was hoping to have all three Bahamian National Basketball Association (NBA) players suited up to play together for the first time in the fourth window of the 2023 FIBA World Cup Qualifiers.
#But while Chavano "Buddy" Hield of the Indiana Pacers is expected to be back for his second sting with the men's national team when they host Venezuela at the Kendal Isaacs Gymnasium on Thursday, August 25, he is more likely only to be joined by Kai Jones of the Charlotte Hornets.
#Deandre Ayton, the centre for the Phoenix Suns, was listed to compete as well, but all indications are that he may not make the trip here as previously indicated by the federation through their previous promotion of the game.
#"We will wait to see who shows up," said Moses Johnson, an assistant coach of the men's team. "Two of three isn't bad, but the one we are not getting is the biggest piece of the puzzle.
#"We're told by his agent that he won't be able to compete. He didn't give any apparent reason, but we will play with what we have. We will see who comes to training camp on Saturday and we will go from there."
#After playing against Venezuela, the team will have a short turn around as they travel to Argentina for their next scheduled game on Monday, August 29. The Bahamas is currently sitting in sixth place in Group E with a 2-4 win-loss record. Canada is undefeated on top of the Americas' standings at 6-0, while Venezuela is in second place at 5-1. Argentina is third at 5-1 as well with the Dominican Republic fourth at 4-2 and Panama in fifth at 2-4.
#Following those two games, the team will have a break until their next two scheduled games here on November 10 against Panama and Argentina on November 13.
#The final two games in the series will take place in 2023 when the Bahamas takes on Venezuela on February 24 and Panama on February 27. Out of these series of games, the Bahamas will have to finish in the top four in order to advance to the next round.
#Hield, a guard with the Pacers, played in the series of games, making an impression in an 88-80 loss to the Dominican Republic on Monday, July 4 at the Baha Mar resort with 29 points, eight assists, five rebounds and three steals in 39 minutes and 38 seconds.
#Johnson, who will assist Golden State Warriors' assistant coach Chris DeMarco, who will be back to serve as the team's head coach, said they are looking forward to putting a solid team together with the players from the training camp.
#Johnson will replace Yolett McPhee-McQuin, who made history as the country's first female assistant coach in the last game.
#McPhee-McQuin is unavailable as she begins preparing Ole Miss University women's team for their collegiate season.
#Returning as the other assistant coach is Mikhail McLean. The team, according to federation president Eugene Horton, will be fully finalised by the weekend. Some of the players will come from the Bahamas Select Team that played and lost a 99-70 decision to the University of Kentucky on Sunday at Baha Mar.
#It's estimated that it will cost the federation an average $1,500-2,000 per person in airline tickets and they're looking at assembling a 20-member contingent that should cost roughly $40-50,000, not including the hotel accommodations and the stipends for each player.
#"It's going to cost us a pretty penny to send this team to Argentina," Horton said.
#Tickets are now available online at the Bahamas Basketball Federation's website. If you click on the flyer, it would provide the information for tickets or they can call 242-814-4170.
#"We expect to win this game here and so we want to give as many Bahamians the opportunity to come out and watch this team in action," Horton said. "Hopefully, this will be the first of many more where they will see our Bahamian NBA and professional players in action."
#Also, persons wishing to be a part of the marketing and sponsorship of the team are urged to contact Horton or email him at kadream4@hotmail.com for more details.
http://www.tribune242.com/news/2022/aug/16/ayton-miss-next-window/?news