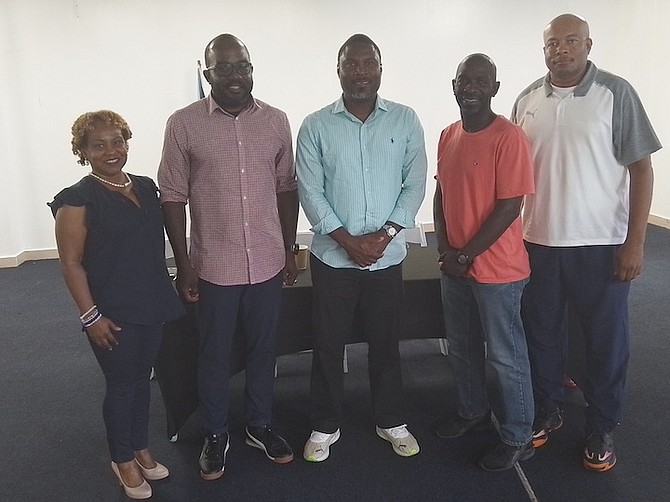 PICTURED, from left to right, are Nikkita Thompson of NACAC and BAAA executives Demaris Cash, BAAA president Drumeco Archer, Tito Moss and Sheldon Longley.
#By BRENT STUBBS
#Senior Sports Reporter
#bstubbs@tribunemedia.net
#THE Bahamas Association of Athletic Associations is anticipating a grand affair when they host their Senior and Junior National Track and Field Championships next month.
#The anticipation is brewing over the fact that already seven athletes have attained the qualifying standards for the World Championships in Budapest, Hungary, in August and a few are close going into the NCAA Championships.
#Against that backdrop, the BAAA will host its joint junior and senior nationals over the weekend of July 5-7 at the original Thomas A Robinson Track and Field Stadium.
#The venue, however, could change to the new TAR National Stadium, depending on the progress of the renovations underway for the World Relays next year.
#Tito Moss, BAAA vice president of operations, said they have decided to stage this year's nationals over a three-day period, starting around 3pm each day.
#And he said it will serve as the trials for the NACAC Under-18 and Under-23, set for San Juan, Costa Rica, July 21-23, the World Championships in Budapest, Hungary from August 19-27 and the Pan American Games in Buenos Aires, Argentina from October 20 t- November 5.
#"All of our premier junior and senior athletes who wish to represent Team Bahamas in any of those championships must show up," Moss stated. "We've had an exciting year of track and field thus far and we look forward to these trials being an exciting one to culminate and head into those summer meets."
#Apart from all of that excitement, Moss said the BAAA's will host a relay carnival where they have invited some of their NANAC and World Athletic family member associations to participate in their bid to qualify their relay teams for the World Championships.
#"We've gotten some commitments from a few countries and as we move closer to the meet, we will reveal a little bit more," Moss promised. "So in addition to the nationals, we are looking to qualifying some relay teams for some of the major events this year."
#BAAA's president Drumeco Archer said looking at the composition of what they will present to the public during the nationals, it's safe to say that there will be generation of athletes from the past competing mixed with a generation of the new rising stars coming forth.
#"As we see the Anthaya (Charlton), Wayna (McCoy) and Terrence Jones and the Rhema Otabor and Keyshawn Strachan, a few who have transitioned from the junior programme to the senior programmes, we're delighted to see that there is a passing of the baton from a Jyles Etienne and Shaun Miller to Donald Thomas."
#Coming out of the CARIFTA Games held over the Easter holiday weekend, Archer said there's been an immense level of enthusiasm for the sport, and they hope it will spill over to the nationals.
#Demaris Cash, the BAAA's Special Events Coordinator, said every year they are obligated to put on their national championships and this year is no exception with a number of incentives added for both the athletes and the spectators.
#"We want to encourage all fans to come out," Cash said. "We are going to add some interesting things to this event. We will have a cultural set up where fans can participate, look at junkanoo pieces and eat some food, enjoy some arts and crafts and the kids will have the bouncing castle."
#Cash, a former quarter-miler, indicated that there will be a wide range of athletes competing from the newcomers to the veterans, so the fans will have some exciting competition to view.
#Archer said with schools being closed during that period, they hope that the school students, especially those in primary schools, will take advantage of the entrance fee of just $5 for children and $10 for adults.
#"I'm expecting some amazing performances," Archer predicted. "We anticipate taking one of the larger World Championships teams. I believe this set the stage for what we hope to assemble for the upcoming Olympic Games.
#"I think that the sprints will be returning back to the Bahamas. We have a cadre of sprinters that we have not seen in a decade or two, so that is good for the sport."
#Mythopoetically, Archer said there's a "season to born and a season to die," and so they expect that there will be the emergence of new stars and the return of the old ones at the meet.
#Athletes, who won't be able to make the qualifying standards for the World Championships, could still earn a berth in Budapest based on their world rankings. which is one of the measuring sticks used by World Athletes to complete their lineups for each discipline contested in August.