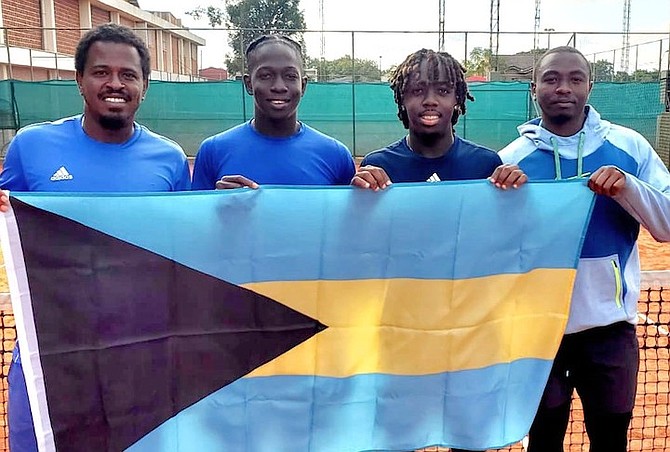 BAHAMAS Davis Cup team, from left to right, of captain Marvin Rolle, Donte Armbrister, Denali Nottage and Kevin Major Jr.
#By BRENT STUBBS
#Senior Sports Reporter
#bstubbs@tribunemedia.net
#The Bahamas, after losing its first three matches in the American Zone III Davis Cup tie, managed to take advantage of Honduras to secure a 3-0 win to advance to the playoffs on Saturday.
#Playing out of Pool B at the National Tennis Club in Asuncion, Paraguay, Denali Nottage won his opening singles match 4-6, 6-3, 6-3 over Guillermo Alfonso Bennaton in two hours and nine minutes.
#Kevin Major Jr, the top seeded player, needed just 58 minutes to dispose of Alejandro Obando in set scores of 6-2, 6-0.
#And in doubles, veteran player/captain Marvin Rolle and Donte Armbrister once again teamed up to secure another victory with a 7-6, (7-3), 6-4 decision over Obando and Mario Richmagui in one hour and 25 minutes.
#Rolle, who the day before was honoured for his longevity as a member of Team Bahamas, said he couldn't ask for a better showing than he got against Honduras.
#"Denali had a tough one. He came a little nervous because of the importance of the tie," Rolle said.
#"He came out a little nervous after losing the first set, but he managed to overcome his nerves and he pulled off the second set.
#"He just kept his nerves and he continued fighting and pushing. He finished strong. He got his first Davis Cup victory. So I'm really proud of him."
#After losing his first three matches in the previous three days, Rolle said Major Jr took his frustration out on his opponent from Honduras.
#"The guy didn't have any chance," Rolle said.
#Like they did in their opening tie, Rolle and Donte Armbrister teamed up for another victory in doubles.
#"Nobody got broken until 3-2 in the second when I got broken at 3-2," Rolle said. "We broke back, Donte held at 4-4, we broke again and I held serve to close it out.
#"Overall, it was a good day."
#With today off, Team Bahamas will now play on Saturday when they take on the loser between Bermuda and Panama.
#Rolle said they hope that they can face Panama because they don't want to play against the only other English-speaking team in the tournament.
#Looking back at their performance against Honduras, Armbrister said they played extremely well.
#"It was a competitive match from the start. We played well from the start and I like how when we were faced with adversity, we just stayed positive and kept on fighting," Armbrister said.
#"Like I say, I always enjoy playing with Marvin. He always knows what shots to hit at the right time.
#"He served well, he volleyed well and did everything right at the right time."
#Armbrister, who is making his second appearance on the Davis Cup team, said it was so refreshing to win all three of their matches played, which gives them the opportunity to play on Saturday.