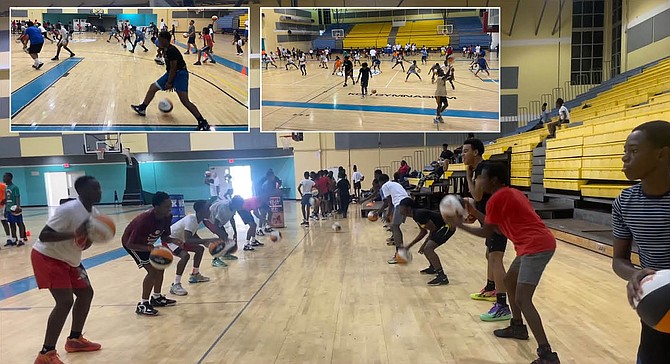 RAINING BUCKETS: Over 200 girls and boys combined gathered at the Kendal G L Isaacs Gymnasium yesterday to learn basketball fundamentals courtesy of the Basketball Smiles summer camp. Photos by Tenajh Sweeting
As of Wednesday, June 21, 2023
#By TENAJH SWEETING
#Tribune Sports Reporter
#tsweeting@tribunemedia.net
#THE Basketball Smiles camp returned to The Bahamas for the 24th year this week.
#The basketball camp from the United States got underway on Monday at the Kendal G L Isaacs Gymnasium and will wrap up by the end of this week.
#The camp hosted over 200 girls and boys between ages 4-16 with the aim of teaching them the basic fundamentals of basketball.
#Sam Nichols, retired head coach of women's basketball at McMurry University, talked about the success of the 24th edition of the camp so far.
#"It has been great, we have been fortunate enough to have Kendal G L Isaacs [gym] which helps because what makes for a great camp is coach to player ratio and having adequate facilities.
#"The coaches that came with me from Texas are great coaches and with the facilities here it has allowed us to have a quality camp with more kids," Nichols said.
#With more than 200 boys and girls in attendance at Basketball Smiles, the retired Hall of Famer women's coach said the coaching experience of his team has helped them to manage the different personalities at the camp.
#"Our coaches have a lot of experience, we have coaches that have won state championships, collegiate championships, and they have kids from different ethnicities and backgrounds at home [and] we view this as a sacrifice so when we come here it is not about us, it's about that boy or that girl," he said.
#Although he acknowledged that it can be difficult at times, he knows that kids are just being kids so his team of coaches practices an adequate amount of grace but discipline at the same time. Among some of the basketball skills to be acquired at this year's camp are footwork, ball-handling and shooting skills, and defensive abilities.
#Accasico Nottage, a two-time returning camp participant, talked about his experience this year.
#"I am enjoying it a lot. I learned that the game of basketball is a lot more about teamwork. And I have learned how to dribble a lot better and it has helped me to slim down a bit," Nottage said.
#The 16-year-old credited coach Patricia "Patty" Johnson for encouraging him to join the camp over the years.
#Although there were few return participants due to COVID-19, Reonardo McKenzie was one of the first timers to join Basketball Smiles this time around.
#He said his first time felt great and everything has been going good so far.
#The 14-year old decided to join after being referred by a friend and has learned better ball-handling skills.
#The girls usually practice at Basketball Smiles between 9am to noon.
#Coach Nichols believes that this year has been one of the best years talentwise for the ladies.
#In attendance was Bahamian junior women's basketball player and CARIFTA bronze-medallist Terrell McCoy.
#She said she has been attending the camp since knowing coach Johnson and it has been very helpful to her.
#"Basketball Smiles is a very good camp. I have been here about five years, it's an amazing camp for them to come down and teach us new things and be very patient and hardworking with us," McCoy explained.
#She added that she is working on her ball-handling skills to complement her abilities as a post player.
#The Basketball Smiles camp is scheduled to resume at the Kendal G L Isaacs Gymnasium today at 9am.