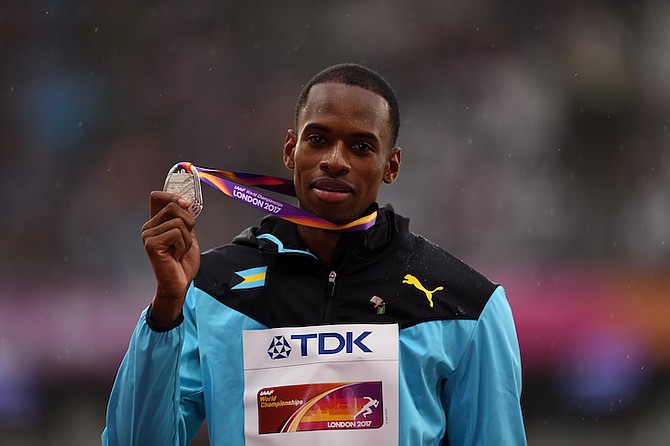 SILVER MEDAL: Steven Gardiner. Photo: Kermit Taylor/Bahamas Athletics
#By BRENT STUBBS
#Senior Sports Reporter
#bstubbs@tribunemedia.net
#Even though it wasn't the finish that he anticipated, men's 400 metres national record holder Steven Gardiner said he's still pleased with the way 2017 turned out for him. Now he's looking forward to expanding his horizons in 2018 as he will contemplate running the 200m again.
#After dropping his national record from 44.26 seconds in April in St George's, Grenada to a stunning 43.89 and earning a silver medal in the men's 400m at the IAAF World Championships in London, England, Gardiner failed to cash in on a big payday at the IAAF Diamond League Final in Zurich, Switzerland as he slipped and fell coming out of the starting blocks.
#The disappointment that he experienced in Zurich on Friday was more than made up for with his record-breaking performance before he ascended the medal podium at his first global meet in London three weeks earlier.
#"My year has been the best that I've ever had in my entire track and field career, not only in terms of running fast this year, but to complete my dream of running 43 this year," he told The Tribune after the race at the Diamond League Final as he missed out on the opportunity to pick up a possible $50,000 for first place to add to the $40,000 he collected at the World Championships.
#"I'm so thankful to my coach, my support team and to everybody who made it possible for me to get to where I am right now. Thank God for allowing me to accomplish the feat. Things happen. I just have to brush it off and move on."
#Although he slipped and fell coming out of the blocks in Friday's race, Gardiner said he's grateful that he was able to walk away from the episode injury-free.
#With the disappointment aside, Gardiner said the greatest thrill for him was becoming the first Bahamian to crack the 44-second barrier.
#"Some people it's easy, but if it was that easy, everybody would go out there and do it," he stated. "I'm very thankful for it. It dealt very well the first time and I hope that I can constantly be at it when I need to be there and just go from there."
#With the success that he experienced in London came the criticism that he got from not running in the heats of the men's 4 x 400m relay after the team of Alonzo Russell, Michael Mathieu, Ojay Ferguson and Ramon Miller didn't advance to the finals at the World Championships.
#But looking at it as a "setback" that he hopes to overcome, Gardiner said he would not change anything if he had to do it all over again. He maintains that he would have been prepared to run in the final if the team had qualified and he intends to leave it at that.
#"I would keep everything the same," he said. "It's been a great year. I couldn't ask for anything more. It's just been a wonderful year."
#Gardiner said it was unfortunate what happened in London with the relay team but he was delighted that he got the opportunity to run with Shaunae Miller-Uibo, Anthonique Strachan and Michael Mathieu in the historic mixed 4 x 400m relay before the home crowd at the IAAF World Relays at the Thomas A Robinson National Stadium in April.
#And now that the season is over for him, Gardiner said he can only look ahead to a brighter future as he heads into his second year under coach Gary Evans in Orlando, Florida where he trains with American Tony McQuay and Jamaican Novlene Williams-Mills, both quarter-milers.
#"Last year was a little tough," said Gardiner of his first major campaign when he competed in his debut at the Olympic Games in Rio de Janeiro, Brazil. "But this year was a great year.
#"I'm just looking to train harder and just get ready for the next championships and the next Olympics. That is my next goal right now."
#As for next year, said he doesn't expect to suit up for the IAAF World Indoor, scheduled for March 2-4 at the Barclaycard Arena in Birmingham, United Kingdom, because of his height at 6-feet, 2-inches, which is a little difficult to run around the 200m track.
#But he has his sights set on representing the country at the Commonwealth Games that will be held at the Carrara Stadium in the Gold Coast, Australia from April 4-15.
#In the meantime, Gardiner said if he can achieve the goals he did in such a short time in a change in environment and coaching staff, he's confident that he can get even better in the long run.
#"My training group, my training partners have all been pushing me and each other," he said. "So all I had to do was to go out there and do the work and it has all paid off for me."
#The Murphy Town, Abaco native said at times he didn't believe in his own ability to achieve the success that he anticipated, but he was grateful for the support he got from everybody at home.
#Gardiner, who turns 22 on September 12, assured the Bahamian public that they can look forward to him taking a shot at running the 200m that he started running when he burst on the national scene under coach Anthony Williams in Moores Island.
#"I started out running the 200 and I was doing it to get my 400 faster, but next year I will be doing the 200, so look out for the 19 seconds next year," projected Gardiner, who has ran a personal best of 20.63 seconds in 2016 at home at the Thomas A. Robinson National Stadium.
#"I don't know if I will attempt it at Commonwealth, but definitely by the next World's or the Olympics, I want to try the double and the Bahamas record in the two events."
#Mathieu currently holds the national record in the 200m at 20.16 that he established in Balem, Brazil in 2012.
#Looking at the two events, Gardiner said he like the half-lap race because it's shorter, but with the strength that he have, it should help to propel him to run even faster.
#"I'm going to mix it up next year," he stressed. "I will run both the 200 and 400 in as many races as I could."
#Gardiner thanked Williams for all of the support that he's given him.
#"He's not forgotten about me and I haven't forgotten about him," said Gardiner of a call he got from Williams to encourage him after he slipped and fell in Zurich.