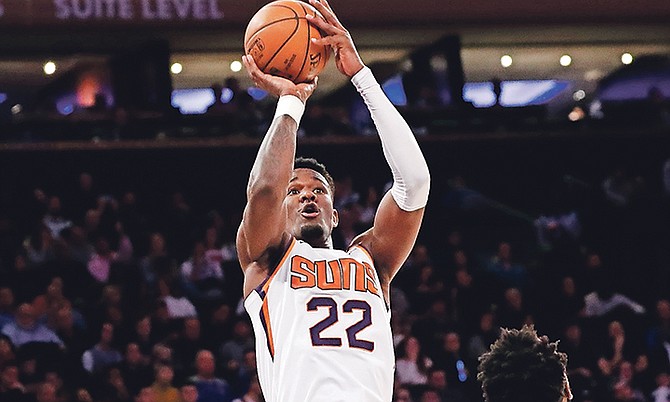 Phoenix Suns centre Deandre Ayton (22) shoots during the second half against the New York Knicks on January 16. The Suns defeated the Knicks 121-98. (AP Photo/Kathy Willens)
As of Thursday, January 23, 2020
#By RENALDO DORSETT
#Tribune Sports Reporter
#rdorsett@tribunemedia.net
#THE Suns have won four of their last seven games and Deandre Ayton has exhibited the potential the franchise eagerly anticipated this season.
#The second year centre is averaging 21.3 points and 12.7 rebounds during that stretch.
#Ayton scored 20 points in five of those games, including four double doubles and a career best 26-point, 21-rebound performance in a win over the New York Knicks on January 16.
#Ayton has appeared in just 13 games this season but has recorded nine double doubles.
#Suns head coach Monty Williams said despite Ayton's recent productivity, he can make those numbers a permanent fixture with effort and consistency. "I think he's gotten much better at recognising the situation. He's got the athleticism and quickness to cover up a mistake and that's something that every big in the league can't say," he told Arizona Sports 98.7.
#"I'm looking for the intensity for eight-to-nine minutes straight, and I think if he can build his conditioning and level of play to that minute of output, I think he's going to find himself in situations when he can somewhat come close to that production. You see these giants that can run and shoot and all of that and you expect it every night but it's hard to do that every night in this league against veteran guys who know what you're bringing to the table. I want to be patient with him and not get too far ahead of myself."
#Ayton himself said after Monday's performance against the San Antonio Spurs, when he finished with 25 points and 12 rebounds, that certain aspects of the game are coming easier to him.
#"I'm starting to see how easy it is to get easy steals and easy fouls," he said.
#As a team, the Suns are 18-25, 11th in the Western Conference.
#Ayton's frontcourt mate Kelly Oubre Jr also told Arizona Sports 98.7 that they need Ayton's continued dominance if the team will earn a playoff spot.
#"Positive affirmations, that's just one thing I try to do. Just try to stay in his ear, let him know he's capable of great things but it's up to him to do that. But he listens, though. It's good," Oubre Jr said.
#"He can always do this stuff, it's just a mental thing for him. Honestly, I think something clicked within his mind that he has to be a dominant beast in that paint in order for us to be great."