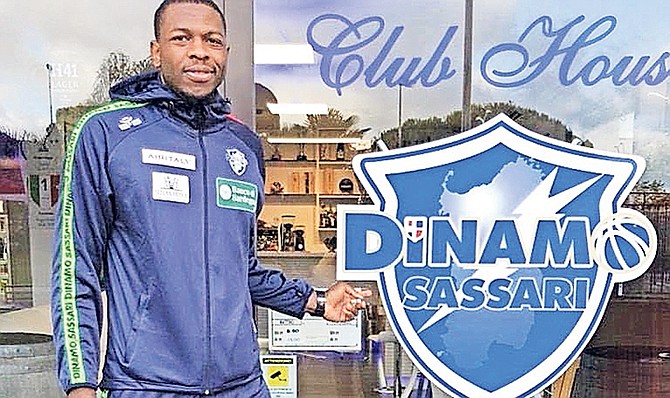 DWIGHT Coleby joined Dinamo Banco di Sardegna Sassari.
As of Tuesday, January 21, 2020
#By RENALDO DORSETT
#Tribune Sports Reporter
#rdorsett@tribunemedia.net
#DWIGHT Coleby is on the move again after he signed a deal to join the top league in Italy for the remainder of the season.
#Coleby joined Dinamo Banco di Sardegna Sassari of Italy's Lega Basket Serie A. The club is currently the European Cup Champions.
#Coleby looks to strengthen an already promising season for Dinamo Sassari.
#In the Champions League they are currently 8-3, second in Group A and are also second in the Italian League with a 15-3 record.
#In the challenge with Pinar he scored a double double with 16 points and 15 rebounds, while against Ankara – Dinamo's opponent in the Basketball Champions League – he canned 23 points.
#Dwight Coleby is with his third team in as many seasons and is averaging 11.5 points and a team leading 8.5 rebounds for Sigortam.net ITU in Turkey's BSL Leagu. He recently completed a 15 game stint with Sigortam.net ITU Basket Istanbul in the Turkish BSL league.
#He averaged 14.1ppg and 7.4rpg this season and previously spent the pre-season with Kalev/Cramo (KML) in Estonian league.
#Coleby spent a portion of last season alongside his brother Kadeem with the Akita Northern Happinets following a short stint in Belgium with Liege Basket in Belgium's Pro Basketball League (PBL). Dwight returned to Leige Basket and the PBL following his stint in Japan.
#Stay tuned.