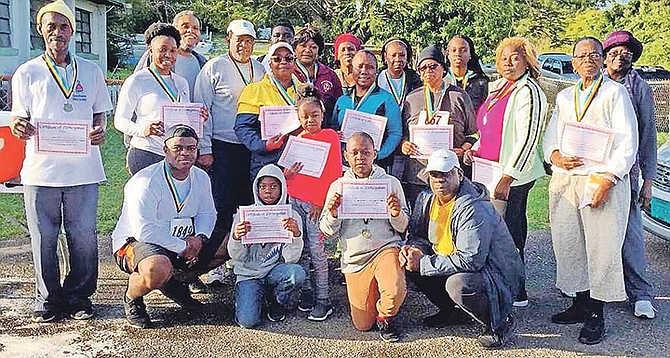 Members of Macedonia Baptist Church who participated in the walk race.
As of Wednesday, January 22, 2020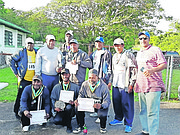 Men visiting from the various Baptist churches at the Macedonia Baptist Church walk.
#REV Foster Knowles, making a surprise visit before he came to preach on Sunday, won the men's overall title, while fitness personality Jackie Adderley emerged as the female winner of Macedonia Baptist Church's Family Fun Walk Race.
#The event was held early Saturday morning from the church grounds on Bernard Road and headed west on Village Road and returned to the church grounds.
#It was a part of the Men's Anniversary celebrations that concluded on Sunday.
#Rev Knowles, an associate minister at the New Free Community Holiness Baptist Church, was followed closely by James Strachan, the oldest male competitor. He was the first finisher from host Macedonia Baptist Church. Rev Sam Lightbourn, an associate minister at Pentecostal Baptist Church, was third.
#Adderley, a former bodybuilder, took the female title over a host of fellow competitors from Macedonia Baptist Church, including second-place finisher Jackie Sands and Dinae Rolle.
#Rev Dr Hartman Nixon presented the awards, which also included the overall church award that was given to the Men's Department of the Bahamas National Baptist Missionary and Educational Convention, headed by director Rev Stephen Ferguson, an associate minister at Hillside Missionary Baptist Church. Among the divisional winners were:
#Male under-15 – Lucas Miller, Frederick Williams Jr and Auguston Mott.
#Male Under-30 – Jeron Minnis, Herman McKenzie and Donovan Powell.
#Male under-40 – Rev. Foster Knowles and Terrell Stubbs.Male 50-plus – James Strachan, Rev Sam Lightbourn and Troy Rahming.
#Male 60-plus – James Strachan, Rev Sam Lightbourn and Rev Harrison Thompson.
#Pastors/Ministers – Rev. Foster Knowles, Rev. Sam Lightbourn and Rev. Harrison Thompson.
#Female under-30 – Dinae Rolle, Dinique Rolle, Brittany Stubbs.
#Female 50-plus – Jackie Adderley, Jacqueline Sands, Denise Strachan.
#Female 60-plus – Mary Johnson and Veronica Strachan.
#Ministers/Pastors – Minister Laverne Nixon.