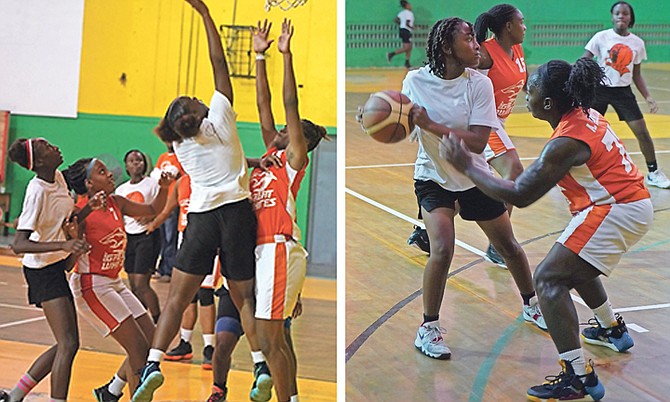 Prime Time Saints against the BIBT Great Whites. Photos: Terrel W Carey Sr/Tribune staff
As of Tuesday, January 21, 2020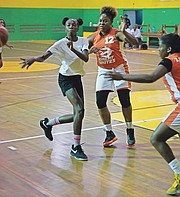 #THE New Providence Women's Basketball Association is now in full gear at the DW Davis Gymnasium and president Devon 'Dee' Johnson is anticipating a great season.
#With a total of five teams competing this year, Johnson said since they began a week ago, games have been very competitive on the nights they play – Thursday and Saturday.
#"The competition is much better than last year and most of the teams are evenly matched," he said. "So every time you come out to the gym, you can watch a good game."
#Completing its first week on Saturday night at the DW Davis Gymnasium, the Prime Time Saints routed the BIBT Great Whites 75-52 and, in the feature game, the Discount Distributors held off Bees Trucking 46-41.
#Looking at the teams participating in the league, Johnson said there appears to be more parity because of the movement of players from one team to the next, due to the fact that two teams didn't return and a new one entered this year.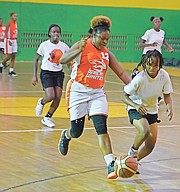 #Based on what he has seen, Johnson believes that the youthful Prime Time Saints, made up of a number of high school players, will be a force to reckon with as they continue to improve as the season progresses.
#"They could surprise some people," said Johnson, who coaches the team along with Anastacia Moultrie.
#"Bees Trucking, coached by Donnie Culmer, seems to be the more experienced team in the league, so we will see how they play during the season."
#Although they are off to a late start, Johnson said the season is progressing very well and he expects that once everybody would have played a couple of games, they will be able to better determine who will be the teams to watch this year.
#To enhance this year's season, Johnson said they have decided to implement a 3-on-3 tournament for the ladies, which will be played on Tuesday night in place of the off night for regular-season games.
#"We are trying to establish that by Tuesday," he said. "The 3-on-3 tournament will be open to any female who is interested in participating. They don't have to be a member of any team in the league."
#Games currently start at 7pm on Thursday and Saturday nights.