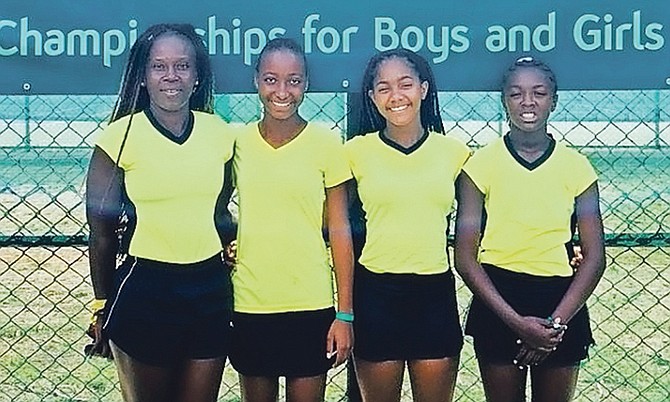 Coach Marion Rolle with players Sierra Rodgers, Sapphire Ferguson and BreAnn Ferguson.
As of Friday, January 24, 2020
#By BRENT STUBBS
#Senior Sports Reporter
#bstubbs@tribunemedia.net
#The Bahamas Lawn Tennis Association's three-member team's bid to finish fifth was thwarted by Costa Rica as they lost to their South American counterparts for the second time to finish sixth at the World Junior Tennis Girls North/Central America and Caribbean Qualifying Tournament.
#In their final match in the main draw yesterday in the Dominican Republic, the Bahamas fell 3-0 to Costa Rica as Sapphire Ferguson lost 6-0, 6-0 to Allison Blanco in her singles as did Sierra Rodgers against Daniela Rodriquez.
#In doubles, cousins Sapphire and BreAnn Ferguson suffered a 6-3, 6-3 decision to Blanco and Lucia Gallegos.
#It was the same score from their initial meeting on Sunday in the Group C preliminary round when Sapphire Ferguson was beaten by Blanco and Rodgers fell to Rodriquez.
#In doubles, Breann and Sapphire Ferguson lost to Blanco and Gallegos.
#Following that loss, the Bahamas blanked Barbados 3-0 on Monday to advance to the Main Draw. Sapphire Ferguson won 6-2, 6-2 over Jolie Philips, Rodgers won 6-3, 4-6, 7-5 over Shonte Sargeant and BreAnn and Sapphire Ferguson won 6-1, 6-0 over Nadia Da Costa and Sergeant.
#In the main draw, the Bahamas lost 3-0 to the Dominican Republic on Tuesday but pulled off a 3-0 win over Panama on Wednesday to earn the right to play for the final spot at either fifth or sixth.
#Against the Dominican Republic, Sapphire Ferguson lost 6-0, 6-2 to Maria Gell, Rodgers lost 6-3, 6-1 to Rosario Elmudesi and Elmudesi and Alexa Lerebours defeated BreAnn and Sapphire 6-1, 6-3.
#And against Panama, BreAnn Ferguson won 6-2, 6-2 over Lia Calderon, Rodgers won 6-2, 6-0 over Liz Arce and BreAnn and Sapphire Ferguson put the icing on the cake with their 6-0, 5-7, 10-8 triumph over Arce and Calderon.
#Coach Marion Bain said the team performed very well against Costa Rica, but lacked the experience to get over the hump.
#"We played with a lot of high-intensity today, but Costa Rica, having beaten us before, went into the match very confident and they played without any fear," Bain said. "They were very loose and relaxed.
#"The performances of our girls didn't match the score. The level of play and the performances were much better than the first time we played them, especially in doubles. They played an unbelievable match today."
#Bain said the Fergusons had a chance to go up in the match, but once again their inexperience made the difference because they were unable to capitalise on it. "I am very proud of the way the girls played today," she stated.
#BreAnn Ferguson, who completed the tournament with a 5-3 win-loss record (2-1 in singles and 3-2 in doubles), said she performed as best as she could against Cosa Rica.
#"I played like I wanted to win. I tried my hardest," she said. "Although I didn't win, I still feel good about my performance. I felt good about the way we played them. I enjoyed playing in the tournament."
#Ferguson, 12, said she just has to concentrate on putting more power behind her serve and moving her feet.
#Sapphire Ferguson, even at 4-4 (1-3 in singles and 3-1 in doubles), concurred with Bain that their inexperience made the difference.
#"I felt if we had a little more experience, we would have been able to play much better in the matches, but I think we did very well," she stressed. "We're a good team and we played very well."
#With a little more consistency and technique, Ferguson said she is confident that she can come back next year and perform much better.
#Ferguson, also 12, said she also had a great time teaming up with BreAnn – her cousin – to play doubles.
#Liz Arce "We had good chemistry," she said. "So it was good."
#For BreAnn Ferguson, the opportunity was mutual.
#"I feel really good that we got the opportunity to play together," she said.
#"We played doubles together, so I'm glad that we got to serve a bond together on the court."
#Rodgers, who was 2-4 (2-3 in singles and 0-1 in doubles), said the performance was good for her.
#"It wasn't as good as yesterday, but I was pleased," she said. "Today, the girl was more consistent and I couldn't handle the pressure. Yesterday, the girl made more mistakes and I was more confident."
#Rodgers 13, said she definitely has to work on her serve.
#Once the team gets back home today, Bain said she has advised the players to concentrate a little more on their approach to the game, especially in their preparation on and off the court. "They have to be more serious in their approach, in their preparation because it all comes down to preparation," she said. "We do not have the high intensity play as Costa Rica, but we can create that type of environment for them.
#"Most of the time, what they do on the court is a result of what they do leading up to their play. So we have to change their preparation, off-court first, the way how they eat and how they prepare for matches and how they prepare for practices. That is the most important thing."
#Bain said she would also like to see the BLTA assemble the team together before they leave the country so that they can spend some time bonding together.
#The team spent the rest of yesterday enjoying a treat from Bain, who noted that they accomplished their goal, which was to advance to play in the main draw. "We have a very young team, but we knew that once we made the main draw, we would perform very well after that," she said.
#"Even though we knew we didn't have a chance to win it, based on the teams that made the main draw, we knew that we were able to compete with them."
#The team would have had to finish first or second in order to advance to the next round of the World Junior Tournament. The Dominican Republic and Puerto Rico clinched the top two spots and were followed by Guatemala and Trinidad & Tobago.
More like this story