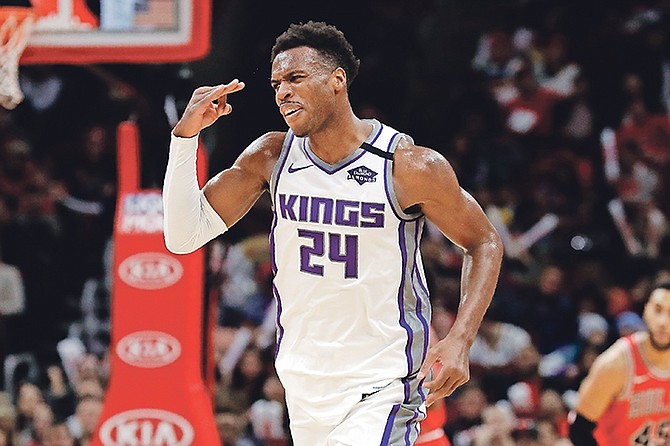 Sacramento Kings guard Buddy Hield reacts after making a three-point basket during the second half against the Bulls.
As of Monday, January 27, 2020
#By RENALDO DORSETT
#Tribune Sports Reporter
#rdorsett@tribunemedia.net
#BUDDY Hield came off the bench for the first time all season and still led the Sacramento Kings in scoring as they stopped a six-game losing streak.
#Hield finished with 21 points and eight rebounds to lead the Kings to a 98-81 win over the Chicago Bulls Friday night at the United Center in Chicago Illinois.
#He shot 7-12 from the field, including 5-9 from the three point line in 23 minutes.
#"I's just being a professional, you have to come in and be ready. When the coach calls your number you have to go out there and hoop. I've been hooping for a long time, since I was in Eight Mile Rock in the Bahamas in Pinedale and that's been my story," Hield said to Kings media in the postgame interview. "I'm just blessed to play an NBA game so regardless of what happens, I'm just out here and I'm thankful to be playing,"
#Hield started the previous 44 games and led the team in scoring and minutes played.
#"Of course, as a competitor you want to figure out what's the reason for that," he said.
#"You never get a straight, clear-cut answer. But as a player, as a professional, you have to go in there, lock in and just do it. When he calls your number, just produce. That's all you can do."
#It had been nearly three weeks since the last Kings win on January 8 over the Phoenix Suns.
#"We just have to figure stuff out, whether the storm, thank God we came out here and got the win, glory to Him. It's been a rough start to 2020 but any win we can take we would love to have that," Hield said.
#"Today I was just more locked in and more confident, just trying to be myself, trying to do what I do best and that's score the basketball at a fast rate. We had a long film room talk, a good dialogue back and forth. It all comes down to trust and making sure everyone has each other's back and that's what we did, we came together and played team defence."
#Bogdan Bogdanovic got the start in place of Hield and finished with 12 points in 26 minutes.
#"We don't win that game tonight without Buddy," Kings head coach Luke Walton told ESPN.
#"It's not a permanent thing. We'll see how this goes and move forward from this. It's about the team being ready to play and not being caught up in who's in the starting lineup or not."
#Sacramento is 16-26 and Since December 17 has gone just 3-15, the worst in the NBA during that timespan.
#Hield is averaging 20.3 points, 5.3 rebounds and 3.1 assists per game, but his shooting numbers are down from a season ago – 42 per cent from the field and 37 per cent from beyond the arc. He signed a four-year, $94 million extension in October. "It's the same message I've given all year. We've had however many different starting lineups all season long and it doesn't matter," said Walton via Jason Anderson of the Sacramento Bee.
#"We're a team and we're struggling to win games right now, so we're looking to see if different groups give us a better chance of doing that, so there's nothing permanent with it."
#The Kings return to the court tonight against the Minnesota Timberwolves.
#Up to press time last night, there was no announcement on whether Hield would remain a reserve or return to the starting lineup.