As of Monday, January 27, 2020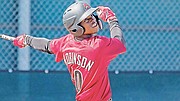 KRISTIAN Robinson
#By RENALDO DORSETT
#Tribune Sports Reporter
#rdorsett@tribunemedia.net
#A PAIR of Bahamian minor leaguers were listed among the Top 100 Prospects when MLB Pipeline unveiled its first rankings for the upcoming 2020 season.
#Kristian Robinson of the Arizona Diamondbacks was listed at No. 43 while Jazz Chisholm of the Miami Marlins was listed at No.66 overall.
#Once again, Robinson had a meteoric rise in the offseason, indicative of the pace most pundits expect of the 19-year-old outfielder.
#He rose 29 spots in the rankings from his position at No.72 at the end of the 2019 season.
#This comes after a 16-spot advancement last year when he began the 2019 preseason ranked at No.88 before his eventual climb to 72.
#Robinson had one of the greatest advancements of anyone on the list, rising 16 spots from No.88 in the preseason to No.72 at the end of the year.
#Ranked No.2 in the Diamondbacks farm system, Robinson began the year at the Class A – Short Season level with the Hillsboro Hops.
#In 44 games with the Hops, he hit .319 with 52 hits, 10 doubles, scored 29 runs, 35 RBI, nine home runs, an OBP of .407, OPS of .966, and slugging .558 with 14 stolen bases.
#In August, he was called up to the Kane County Cougars where he concluded the remainder of the season in the Class A Midwest League.
#In 25 games with the Cougars, he hit .217 with 20 hits, three doubles, scored 14 runs, 16 RBI, five home runs, an OBP of .294, OPS of .729, and slugging .435 with three stolen bases.
#MLB Pipeline called Robinson's potential ceiling "the highest in Arizona's system and one of the highest among all teenage prospects".
#"Robinson is both a physical specimen — listed at 6-foot-3, 190 pounds — and an impressive athlete who shows the makings of having average or better tools across the board. He has the type of prodigious right-handed power that could one day make him one of the game's more revered sluggers, and he already applies it during games from line-to-line. Robinson also shows feel to hit, with plate discipline and contact skills that stand out for his age and experience. That hitting ability is the reason why scouts are so bullish about Robinson's power potential, and he stands to make a major jump in that department as he learns to consistently hit the ball in the air," his profile analysis said.
#The Diamondbacks system had five players listed among the top 100, one of just eight teams to do so.
#Chisholm dropped nine spots from No.55 to No. 64 this year.
#In the off-season, he was named to the Marlins' 40-man roster, protecting him from the MLB's Rule 5 Draft. He also competed for Criollos de Caguas in the Puerto Rican Winter League.
#"Chisholm has more power than most shortstops because he has explosive bat speed and natural loft in his left-handed swing," his MLB prospect analysis said.
#"A potential 20-20 player, Chisholm has solid speed and is an efficient base stealer. He has all the tools necessary to stay at shortstop, as his actions, range, hands and arm all grade as at least above average. While there's currently a large gap between his floor and ceiling, his game and early Minor League career are reminiscent of Javier Baez's."
#Chisholm was named the top defensive shortstop in the Double-A Southwest League and his advancement to Double-A baseball this season produced a Southern League All-Star selection after he led all the league's shortstops with 21 home runs and 173 total bases.
#In 112 Southern League games last season with the Jackson Generals and eventually with the Jacksonville Jumbo Shrimp, Chisholm batted .220 with a .321 OBP, a .441 slugging percentage with 10 doubles, seven triples, 21 home runs, 54 RBIs and 16 stolen bases. He finished in a tie for second in home runs and fourth in triples.
#He was traded from the Arizona Diamondbacks to Miami for starting pitcher Zac Gallen and became the Marlins' No.4 prospect.
#Following the trade, in 23 games with the Jumbo Shrimp, he hit .284 with a .383 OBP and a .494 slugging percentage with four doubles, two triples, three home runs, 10 RBIs and three stolen bases.
More like this story