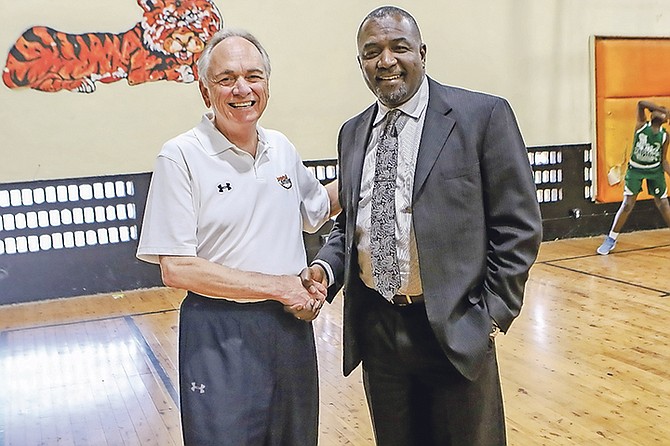 Sam Nichols and Mario Bowleg (right).
As of Tuesday, January 28, 2020
#By RENALDO DORSETT
#Tribune Sports Reporter
#rdorsett@tribunemedia.net
#BASKETBALL Smiles looks to continue its more than two decade relationship with the Bahamas and has now partnered with the Bahamas Basketball Federation moving forward to further that development.
#BBF President Mario Bowleg and Basketball Smiles Director Sam Nichols announced the partnership and plans for the 21st edition of its trademark camp June 22-26 at the Anatol Rodgers High School.
#"We're honoured and humbled that the federation has partnered with us because we have so much respect for the federation and for the work that they do to develop basketball here in the Bahamas. So much of the work that they do is behind the scenes day in and day out to try to build the game of basketball and build young men and women," Nichols said.
#"This summer will be our 21st year and we have had over 11,000 boys and girls go through our programme. I firmly believe that either everybody counts or nobody counts. We wanted to do something more than a basketball camp, we wanted to bring generational change, my country needs generational change, as does yours. We need to develop young men and young women that are going to become leaders of the country. We want to sow seeds of good citizenship, self respect, non-violent conflict resolution and we can do that through basketball. It's something God put in our hearts, we just love the people and have always been received well. We have never been treated as outsiders and strangers but we have felt like family from day one."
#Over the past two decades, the group has conducted free basketball camps for both girls and boys. The programme was first introduced in 1999 by Nichols, a Hall of Fame women's basketball coach from McMurray University, and his wife Sandy Nichols.
#The Nichols family developed a working relationship with local women's basketball icon Patricia 'Pattie' Johnson of the HO Nash Junior High School Lions.
#Nichols used his platform on KTAB 4U, an NBC affiliate in Abilene, Texas to aide students displaced by Hurricane Dorian. Nichols and Basketball Smiles partnered with Kelly's Home Centre to facilitate the purchase of school supplies to help students adjust to a difficult transition in their new environments.
#"We felt like we had an obligation for the holistic approach. Those kids needed us more than ever so we fundraised to try to get them some sense of normalcy," Nichols said.
#The motto of Basketball Smiles is: "We bring a week of smiles and hope through basketball." According to Nichols, "We conduct a daily life skills programme during the camp that emphasises self-respect, academic success, good citizenship, and spiritual values. Our goal is not just to develop basketball players, but help build future leaders in the Bahamas."
#Bowleg said the group continues the mandate of its original mission statement of youth development through basketball and life skills.
#"I wanted to thank Basketball Smiles for their donations to those displaced students and did so much to get them prepared for school. It was touching and it was great for this organisation to come through," he said.
#"They have been coming to the Bahamas for 20 years and the whole idea when this programme started was to touch the inner city kids, through the community one student at a time, to build their character and the community to help the entire Bahamas," said Bowleg.