As of Wednesday, January 29, 2020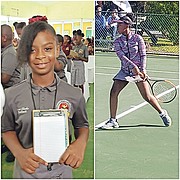 Sarai Clarke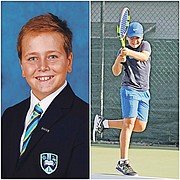 Jackson Mactaggart
#THE Bahamas Lawn Tennis Association (BLTA) congratulates two of its juniors on their selection as "Student Of The Year" Nominees: Jackson Mactaggart and Sarai Clarke.
#Jackson Mactaggart is an honour roll student at the Lyford Cay International School and the No.1 ranked tennis player in the country for the boys' under-12s, winning trophies in the national tournaments.
#He has represented the Bahamas in tennis on the international stage. Jackson also plays soccer and golf competitively.
#And he plays the steel pans for the Lyford Cay International School Steel Orchestra and is also a parishioner and CCD student at Saint Paul the Apostle Catholic Church.
#Sarai Clarke is head girl at the TG Glover Primary School and has always been on both the Principal's List and Honour Roll. Clarke is one of our top tennis juniors in under-10, winning many trophies.
#Sarai is also active in soccer and track and field, also winning a number of awards.
#She is a member of the Bells and Choir Chimes Ensemble, School Choir, and Spelling Bee and Discovery Club at her school.
#Clarke passed the Royal School of Music Exam Grade 1, is a member of the Peer Meditation group and a parishioner at Grants Town Seventh Day Adventist Church.
#Clarke was also recently selected as Student of the Week.
#"These two juniors amaze us with their discipline, attitude, and excellent spirit. They go beyond the regular and set new boundaries to scale new heights," the BLTA said in a press release.
#"Exhibiting a willingness to serve and to share, Sarai and Jackson have volunteered their time to assist the BLTA with the Ranfurly Home for Children free tennis clinics.
#"Jackson Mactaggart and Sarai Clarke are very worthy candidates for the 2020 Primary School Student of The Year.
#"As nominees of this prestigious award, we wish them both well in their journey and know this is just the beginning of many future opportunities and achievements."