As of Wednesday, January 29, 2020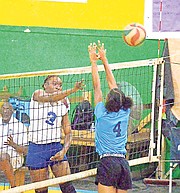 #THE University of The Bahamas Mingoes only needed three sets to defeat the junior national team in New Providence Volleyball Association action at DW Davis on Monday night.
#The Mingoes won the match 26-24, 25-22 and 25-11. The Mingoes now sit in the 5th spot with a 4-10 record and the juniors are in 6th at 2-11.
#In the first set, the Mingoes and juniors battled it out. The Mingoes led by six points (13-7) but the juniors were able to claw back and force deuce. The Mingoes held on for the 26-24 set win.
#The second set was another back and forth battle between the two teams. The Mingoes, however, were able to hold on for the 25-22 win. In the third set, the Mingoes finally started to gel as a team. It took them 17 minutes to win the last set 25-11 and secure the win.
#Team captain Alivia Culmer said it was a good feeling to pick up a win. "We all wished that we could've ended the game a bit quicker than we did," she said. "Due to us playing the night before the ladies were a bit tired but we still ended up fighting through. We had a few downfalls in our service but other than that the defence was good from the ladies. Overall it was a successful match and I look forward to many more wins in the upcoming games ahead of us.