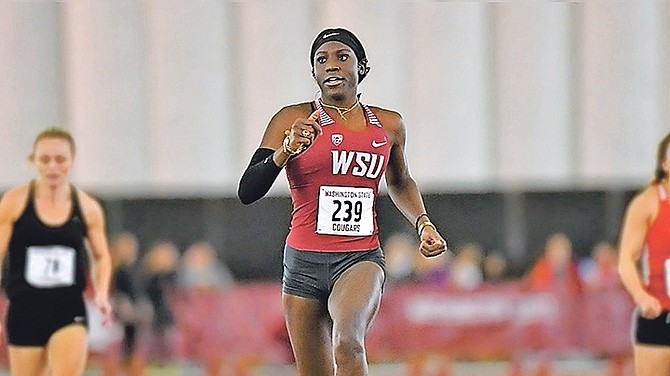 Charisma Taylor competing for Washington State University.
As of Wednesday, January 29, 2020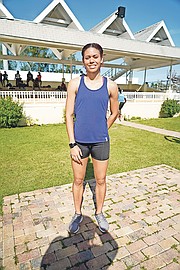 Sasha Wells
#By BRENT STUBBS
#Senior Sports Reporter
#bstubbs@tribunemedia.net
#Charisma Taylor and Sasha Wells, who could be headed for a collision course in the NCAA Division One Indoor Track and Field Championships, had some outstanding performances over the weekend for their respective colleges.
#Taylor, competing for Washington State University at the Red Raider Invitational, had double duties on and off the track. She started out running the third-fastest qualifying time of 8.27 seconds in the preliminaries of the women's 60-metre hurdles for the 27th best collegiate time this year. She came back in the final and finished fifth in a season's best of 8.35.
#That was because in between the two races, Taylor went on the field and soared to a lifetime best of 13.27 metres or 43-feet, 6 1/2-inches to pick up second place in the final of the women's triple jump. Her performance on her fifth attempt turned out to be the fourth-best mark posted so far in the nation this year.
#"I had to do the triple jump and the hurdles in less than an hour apart," Taylor said. "I matched my PR in the preliminaries of the hurdles, ran over to the triple jump and did six jumps, so I was a little tired when I got to the final of the 60m hurdles.
#"When I jumped my PR, I felt there was still more left in the tank, but I felt good about the performances. If I had just the triple jump to do, I felt I would have done much better. But I'm still happy with my performances."
#Taylor said she feels that she's on top of her game right now, having asked God to give her the strength each and every week to make it and she feels God has been answering her prayers.
#Having done a lot of running while home at Christmas and working out with coach James Rolle at the Thomas A Robinson Track and Field Stadium, Taylor said she's much stronger than last year and she is confident that it will help to propel her to a shot at qualifying for the NCAA Indoor and Outdoor Championships and the Olympic Games. "I'm looking forward to atleast placing in the Nationals, if not to get the gold," she said. "I feel if I keep going in this direction, I should be able to qualify for the Olympics in the triple jump."
#And with Doug Fraley, a new assistant coach to work with this year, Taylor said she's more motivated because of the communication level she's enjoying.
#Wells shines in
#Nebraska
#At the Mark Colligan Memorial at the Bob Devaney Sports Center in Nebraska, Wells improved on her own Oral Roberts University record by .11 seconds by clocking 8.30 – the 25th best nationally ranked performance this year – in her victory over team-mate Gabrielle Gibson, who was third in 8.55.
#Wells, the five-time Summit League champion, was not done as she came back 10 minutes later to win her second title at the meet in the 60m in 7.51. Wells had the fastest qualifying time of 7.54 in the preliminaries.
#Gibson, a sophomore, also competed in the event, coming in 12th in 7.80 and freshman Lakelle Kinteh, also a part of the Bahamian connection at Oral Roberts, was 16th in 7.97.
#Kinteh also competed in the long jump where she soared 5.51m (18-1) for eighth place.
#Male hurdlers compete
#At the KSU DeLoss Dodds Invitational in Kansas State, Oscar Smith, a freshman at Kansas State, won the men's 60m hurdles in 7.98. The week before at the K-State Winter Invitational, Smith did a personal best of 7.87 that has him ranked at No.29.Over the weekend, he also ran on Kansas State men's 4 x 400m relay team that got second in 3:27.09.
#And at the Dr Martin Luther King Jr Collegiate Invitational at the Albuquerque Convention Center, Shakeem Smith, a senior at UTEP, was fourth in the final of the men's 60m hurdles in 7.90. He had the third-fastest qualifying time of 8.06 in the preliminaries.
#Smith is coming off his personal best of 7.92 at the Corky Kell Classic where he shattered a 20-year-old UTEP school record of 7.96. His time has him tied with two others at No.43.