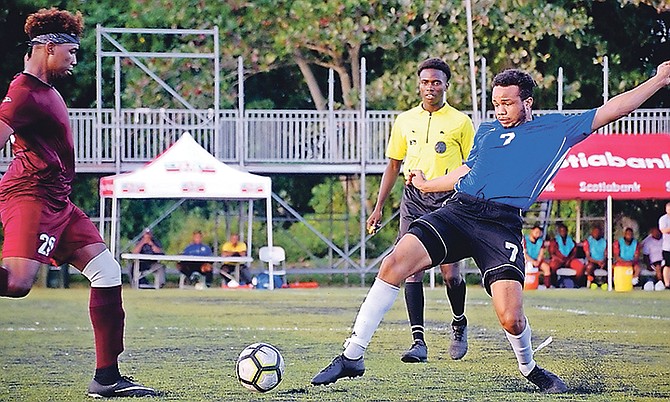 UB Mingoes' forward Devonte Dean (#7) challenges a Bears player for the ball. Photo UB Athletics.
As of Wednesday, January 29, 2020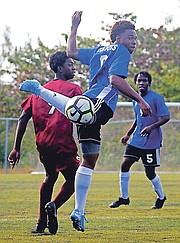 #THE University of the Bahamas Mingoes scored first against the Bears in BFA action on Sunday and were hoping to hold on for the win.
#The Bears though answered back to take the match 3-1 and hand the Mingoes their second loss of the season.
#Mingoes forward Bulinsky Cousin drew first blood in the highly competitive match on Sunday at the Roscow R.L. Davies Field.
#Renaldo Johnson had the deep penetration and crossed to Cousin for the goal to put the Mingoes up 1-0 in the 32nd minute.
#After that it was all Bears. With a few minutes to go in the first half, Michael Suris connected in the 41st minute for the equaliser and the two sides headed into the half tied at 1.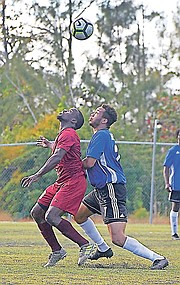 Bears forward Lesley St Fleur and UB Mingoes forward Devonte Dean battle for the ball.
#In the second half, Lesley St Fleur connected on a brilliant play in the 58th minute for The Bears to put them up 2-1.
#In the 76th minute, Ofilio Bellot scored and put the Bears up 3-1 on the Mingoes.
#The Mingoes were not able to respond and dropped their second match of the season. The Mingoes now sport a 0-2 record.
#"I just trusted my players," Cousin said of his goal.
#"They came through with a nice beautiful cross where I didn't expect it and I was there at the right time. I was excited as it's my first season goal for UB. Hope there are many more to come because this is only the second game so stay tuned."
#Cousin said the team just ran out of gas in the second half and could not respond to the Bears attack.
#"We started off full of confidence in the first half and we played a really great half," he said. "We weren't fit enough, I should say, to hold them off, but next game we're coming back strong for our wins."
#The Mingoes play again at 2pm Sunday, February 23 against the Cavaliers in BFA action at the Roscow R.L. Davies Field.