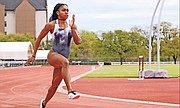 Tynia Gaither. (File photo)
#SPRINTER Tynia Gaither picked up a big win over the weekend at the Tom Tellez Invitational at the Tom Tellez Track.
#Competing in the women's 100 metres on Saturday, Gaither stopped the clock in 11.27 seconds to erase the meet record of 11.30 that was set by Tameka Williams last year.
#In securing the win, Gaither held off Tristan Evelyn, who trailed her through the finish line in 11.41. Phylicia George had to settle for third place in 11.47.
#Gaither went for the double, but she didn't complete the 200m. Ashley Seymour won the half-lap race in 23.53.