As of Monday, February 3, 2020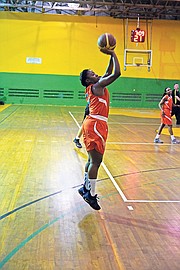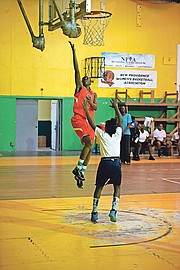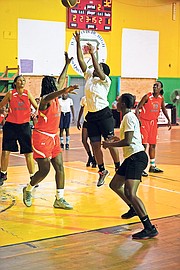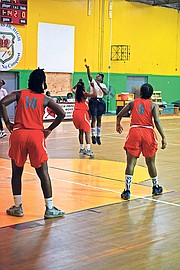 #The New Providence Women's Basketball Association continued its regular season action at the DW Davis Gymnasium on Saturday night with a double header on tap.
#The Saints knocked off the BIBT Great Whites 76-63 and the Bees Trucking Destroyers had to come from behind to pull off a 61-53 decision over the Arawaks.
#Trucking 61, Arawaks 53: With just five players in uniform and none fouled out, Bees had a remarkable comeback win, thanks to Shanovia Neely's 10-for-17 shooting from the field and 4-for-4 from the foul line for a game high 24 points. Sh3e also had 13 rebounds, two assists, a steal and a block.
#Lashonda Rahming had 18 points, 10 rebounds, two assists and a steal; Roberta Quant had 11 points, seven rebounds, two steals and a block and Sheldeen Joseph added eight points with eight assists, four rebounds and two steals. Garcia Hanna didn't score, but she had four steals and a pair of assists and steals.
#Bees trailed 15-12 at the end of the first quarter, but turned things around in the second quarter to go up 30-25 at the half. They opened a 44-35 margin at the end of the third and held on for the win.
#Dennisha Saunders led the Arawaks with 14 points; Ashante Strachan had 13 points, seven rebounds, four assists and four steals; Kevinique Culmer had 12 points, 12 rebounds, four blocks, three assists and two steals and Kandy Smith added seven points and two rebounds.
#Saints 76, Great Whites 63: Antonicia Moultrie pumped in game high 28 points, shooting 10-for-10 from the field, 1-for-6 from the three-point line and 5-for-9 from the free throw line in plating 37 minutes. She also had 20 rebounds, five assists, two steals and two block shots.
#Karol Baptiste added 23 points, seven rebounds and two assists with a steal; Jade Brown had 10 points and six rebounds with a steal and an assist and both Ajani Culmer and Albernisha Cox contributed six points. Cox also had eight rebounds, three steals, two assists and a block and Culmer three assists and two steals.
#The Saints led from start to finish, taking a 21-17 advantage at the end of the first quarter and holding on for a 38-26 margin at the half. They pushed their lead to 52-42 at the end of the third quarter.
#For BIBT, Keishanna Mather led the attack with 17 points, 13 rebounds, four steals and two assists as she played all but six seconds of the game. Johndell Minus had 15 points, 11 rebounds and two steals and Pilar Smith also had 15 points, five rebounds, three assists and two steals.