As of Thursday, February 6, 2020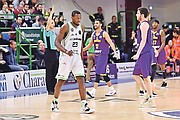 Dwight Coleby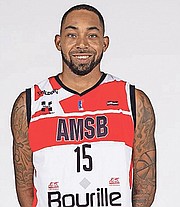 Kino Burrows
Zane Knowles
#By RENALDO DORSETT
#Tribune Sports Reporter
#rdorsett@tribunemedia.net
#Dwight Coleby and Zane Knowles have made immediate impacts with their new clubs while others produced impressive stat lines this week to highlight performances from Bahamian pro basketball players in European and Asian leagues.
#Coleby recorded ten points, eight rebounds and three blocks in 21 minutes of Banco di Sardegna Sassari's 83-73 win over Hapoel Holon in Italy's Basketball Champions League. It was Coleby's second game with the team and also marked their third consecutive win.
#Late last month, Coleby joined Dinamo Banco di Sardegna Sassari of Italy's Lega Basket Serie A for the remainder of the season. The club is the current European Cup Champions.
#Coleby is with his third team in as many seasons and is averaging 11.5 points and a team leading 8.5 rebounds for Sigortam.net ITU in Turkey's BSL League.
#He recently completed a 15-game stint with Sigortam.net ITU Basket Istanbul in the Turkish BSL league. He averaged 14.1ppg and 7.4rpg this season and previously spent the pre-season with Kalev/Cramo (KML) in Estonian league.
#Coleby spent a portion of last season alongside his brothern Kadeem with the Akita Northern Happinets following a short stint in Belgium with Liege Basket in Belgium's Pro Basketball League (PBL). Dwight returned to Leige Basket and the PBL following his stint in Japan.
#After a surprising exit from PAOK Thessaloniki in the Greek Champions League, Knowles signed with Levski Lukoil of the Bulgarian NBL League.
#In his debut with the club, Knowles finished with eight points and eight rebounds in a 101-87 win over Academik Plovdiv.
#Knowles averaged 8.5 points and 8.3 rebounds per game for PAOK Thessaloniki this season in his tenure with the club.
#He had an opportunity to return to the French ProB League with Etoile Charleville-Mezieres, but took the offer in Greece instead.
#In 27 games in the French Pro B League last season, he recorded nine points and 6.7 rebounds per game.
#Knowles spent his first professional season with Siarka Tarnobrzeg and King Wilki Morskie Szczecin of the Polish Basketball League or Tauron Basket Liga, the highest level of pro basketball in the country.
#He has also played professionally in Japan (Tokyo Cinq Reves and Wakayama Trians) where he averaged 9.2 points, 8.3 rebounds and 1.1 blocks in 24 total appearances.
#Burrows is currently averaging 15.6 points, 6.3 rebounds, 2.9 assists and 1.3 steals per game in his first season with
#Aix-Maurienne Savoie in the French LNB Pro League.
#He scored 32 points and finished with nine rebounds in his team's 102-83 win over Paris in their latest contest.
#Burrows signed with Aix after he spent the previous two seasons in France with Fos-Sue-Mer Byers.
#In an injury-plagued season, he averaged 8.6 points and 3.4 rebounds per game last year for the Byers.
#Tavario Miller is in Argentina's La Liga with Quimsa Del Estero, and is averaging 9.3 points and 5.3 rebounds per game.
#He recently led Quimsa to a 107-102 win over Penarol with a double double, 20 points and 11 rebounds in a mere 17 minutes on the court.
#Miller played last season at Grupo Eleyco Baskonia and in 33 games with the club, he averaged 11.5 points, 8.4 rebounds, and 1.2 steals per game.
#In the previous season, Miller's team made it to the Norwegian BLNO Semifinals in 2018. He was also voted Eurobasket.com All-Norwegian BLNO 2nd Team in 2018.
#Kadeem Coleby continues to be a leading force for the Akita Northen Happinets in his third season with the Club in the Japanese B-League.
#Coleby posted a double double with 12 points and 10 rebounds in 29 minutes, but the Happinets fell 82-81 to the third ranked Nannaryz.
#This year Coleby is averaging 9.7 points, seven rebounds, and 1.8 blocks in 27 games.