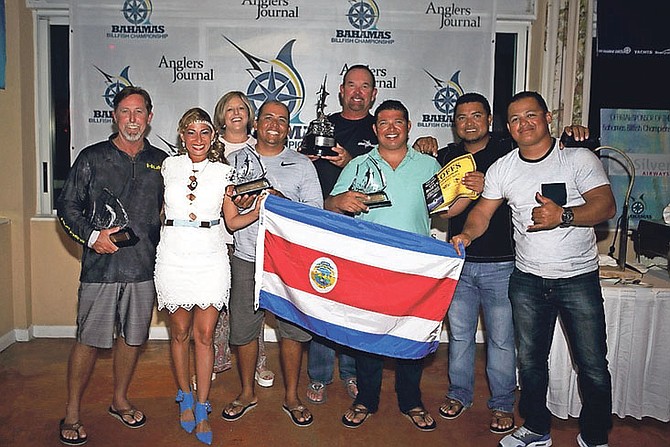 WINNING TEAM: The winning Uno Mas team celebrates victory in the Boat Harbour Championship at Abaco Beach Resort.
#THE UNO Mas team are celebrating after winning the second leg of the 2016 Bahamas Billfish Championship (BBC) in Abaco and earning a $5,000 bonus for a "grand slam".
#The 69ft Bayliss Uno Mas wasted no time in finding the fish at the Boat Harbour Championship at Abaco Beach Resort, catching and releasing a grand slam – a Blue Marlin, two White Marlin and a Sailfish – on day one.
#They went on to release a White Marlin and a Sailfish on the second day and clinched victory by releasing three Blue Marlin and a White Marlin on day three. Brooks Smith, the owner of the Uno Mas, received the $5,000 grand slam bonus cheque.
#Sandrita, a 62ft Ocean, made the scoreboard on all three days as well releasing a Blue and a White Marlin on day one, a Blue Marlin on day two and two Blue Marlin on the last day.
#Sandra Fish caught two of those blues, earning her the award for top lady angler and was awarded a 14 carat gold blue marlin designed by Abaco Gold in Marsh Harbour.
#BBC series leader, the 40ft Cabo Bamboo, released three blues and three sailfish to claim third place. Bamboo have 5,200 points after two legs of the series, 300 ahead of Sandrita with Uno Mas a further 100 points back.
#The Boat Harbour Championship overall released 28 Blue Marlin, 24 White Marlin and 10 Sailfish. The next leg of the series takes place in Marsh Harbour at the Abaco Beach Resort on June 1 to 4.
#The $1m Marlin prize is still up for grabs to the angler that catches Blue Marlin that breaks the current Bahamas record of 1,119 pounds.
#All of the prior 'granders' have been caught during BBC tournaments.
#The opening night captains' meeting and dinner was sponsored by AIG, Friday night's cocktail party by Abaco Cays Realty, at which the premiere episode of Anglers Journal TV was shown. Host and executive producer, John Brownlee, and his team were filming the BBC fishing action in Abaco for the upcoming season which airs July 3 on Destination America.
#Saturday night's awards ceremony was held in the Anglers Restaurant at Abaco Beach Resort and sponsored by Angler Journal TV.
#The BBC tournament's major sponsors included AIG, Costa, ZF Marine, Vetus-Maxwell, Aqualuma, Roff's, Starbrite, Huk Performance Fishing, Required Team Gear, Black Bart Lures, and Silver Airways, the official airline of the BBC.
#For information, results and standings, or to register for the remaining tournaments, visit www.bahamasbillfish.com, follow on Facebook (Bahamas Billfish Championship) or on Twitter @Bahamasbillfish.