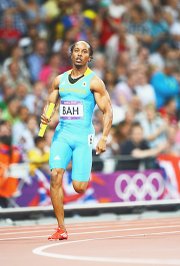 Chris Brown
#By BRENT STUBBS
#Senior Sports Reporter
#bstubbs@tribunemedia.net
#WITH the Bahamas Association of Athletic Associations' National Open Track and Field Championships a month away, athletes are getting fine-tuned for the much-anticipated showdowns that will also prepare them for the 2016 Olympic Games in Rio de Janeiro, Brazil, in August.
#Led by Chris Brown, three Bahamians competed at the Meeting International Mohammed VI D'Athletisme de Rabat Diamond League in Rabat, Morocco.
#Brown, facing some of the top quarter-milers in the world as he continues his slow outdoor campaign after serving as the meet director for his second Chris Brown Bahamas Invitational, settled for a fourth place finish in 45.75.
#American LaShawn Merritt, winner of the men's 200m at the CBBI on April 16, easily won the race in 44.66. Kévin Borlée of Belgium was a distant second in 45.26 and Isaac Makwala of Botswana was third in 45.38.
#Adrian Griffith, who has already ran the fastest time this year by a Bahamian in the 100m of 10.12, moved up to the 200m where he was eighth in 21.32.
#Alonso Edward of Panama took the tape in 20.07 with Hua Wilfried Koffi of the Ivory Coast second in 20.35. Bruno Herrera of Spain was third in 20.36.
#On the field, Donald Thomas was ninth in the men's high jump, tied with two other competitors on more knockdowns at 2.20m.
#Ukrainian Bohdan Bondarenko, the reigning world champion and Olympic silver medallist, topped the pack with a leap of 2.31m. American Erik Kynard got second with 2.28m andKonstadinos Baniotis of Greece was third with 2.25m.
#Two more competitors competed at the IWC AA Drink FBK-Games at the Hengelo's Blankers-Koen Station in Hengelo, Netherlands with high jumper Jamal Wilson leading the way.
#Wilson, slowly making an impression as he continues his breakout year on the international scene, was second in the men's high jump with a leap of 2.20m.
#Sylwester Bednarek of Poland won the event with 2.21m and Takashi Eto of Japan came in second with 2.20m on fewer knockdowns.
#Also at the meet was Michael Mathieu. He was fifth in another pretty decent field of competitors in 47.06.
#Jamaican Javon Francis won in 45.35. Liemarvin Bonevacia of the Netherlands was second in 46.21, while American Jeremy Wariner continues his comeback trail, taking third in 46.33, just ahead of compatriot Kyle Clemons, who did 46.84 for fourth.
#Two days earlier at the Ostrava Golden Spike in Ostrava, Czech Republic, Griffith was seventh in the men's 100m in 10.43.
#Jamaican multiple champion and world record holder Usain Bolt stopped the clock in 9.98. Ramon Gittens of Barbados came in second in 10.21 and Hassan Taftian of Ireland got third in 10.25.
#Also at the meet, Mathieu was eighth in the men's 400m in 46.83.
#Francis picked up another victory in 44.87 ahead of American Tony McQuay, who did 45.17 for second. PavalMaslák of the Czech Republic was third in 45.46.
#The BAAA Nationals is set for June 24-25 at the Thomas A Robinson Stadium and will serve as the final trials for the Olympic Games, scheduled for August 5-21 in Rio de Janeiro.