Photos: 10th Year Seniors
As of Friday, February 7, 2020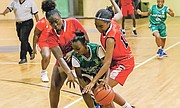 #By RENALDO DORSETT
#Tribune Sports Reporter
#rdorsett@tribunemedia.net
#The Bahamas Association of Independent Secondary Schools completed their sudden death semi-finals yesterday at the Anatol Rodgers Gymnasium and the championship matchups are set for next week's final.
#The best-of-three championship series in all divisions will be hosted February 10, 12, and 13 (if necessary) at Loyola Hall.
#Each of the four division championships will also feature a team from the St Augustine's College Big Red Machine.
#The Senior Boys series will be between the Big Red Machine and the Queen's College Comets.
#The Comets had the most lopsided win in the semifinals with a 73-31 victory over the Aces.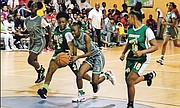 #The Big Red Machine had a much tougher route to the final with a 54-53 win over the Saints last night. Lamar Watkins led SAC with 13 points while Aaron Sands had 12.
#"We just dug deep and I kept telling the guys we were going to win if we played hard. When I look back at the film, I'm sure I'll be able to see where we missed a million layups, that was uncharacteristic of us. The jump shots weren't going, the layups weren't going, we just came out flat, sometimes it happens and all you can do is hope the guys dig deep," SAC head coach Jason Edwards said.
#"All we can do right now is tighten up some things, everything was rough tonight, it was one of those games you have to grind it out to get a win, but it feels good to get a win, especially when you're moving on."
#In the Junior Girls division, the Big Red Machine will face the Kingsway Academy Saints. The Saints were the first team to advance with Wednesday's thrilling 26-24 win over the Jordan Prince William Falcons. SAC advanced last night with a 48-34 win over the St John's College Giants, led by Antonicia Moultrie's game high 20 points.
#SAC will be seeking their third consecutive title in the division.
#The Junior Boys series will feature the Big Red Machine against the Jordan Prince William Falcons. SAC escaped with a 36-35 win over Queen's College in the first semifinal while the Falcons defeated the Aquinas Aces 40-32 last night. Barkley Cadet scored 11 points for the Falcons while Tiore Cadet scored 10.
#The Senior Girls title will be a rematch of last year's championship between the Big Red Machine and the St. John's College Giants.
#SAC dominated the Falcons 48-17 to advance while the Giants defeated the Kingsway Academy Saints 49-24. Laurel Rolle scored a game high 12 for the Giants while Sidneya Hilarie added nine