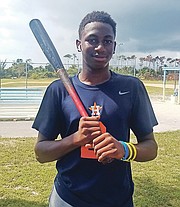 Cherif Neymour
#By BRENT STUBBS
#Senior Sports Reporter
#bstubbs@tribunemedia.net
#JUST about every day, more and more Bahamian players are getting the exposure to either play college or get introduced to the professional ranks of baseball.
#One of the latest to receive such an offer is 14-year-old Cherif Neymour, who was invited to participate in the Program 15 – New Balance Baseball – Future Stars Series in Bradenton, Florida, March 18-27.
#He along with about 14 other players were afforded the trip through the International Elite Academy School in Fox Hill.
#The school is operated by local coaches Geron Sands and Albert Cartwright, who hosted their international scout day at the Pinewood Park.
#The others scheduled to travel are Kristin Munroe, Anthony McKenzie, Lathiem Bell, Adrian Edgecombe, Duane Mackey, Steven Adderley, Jason Moxey, Shimonte Bain, D'shaughn Forbes, Kaydee Dean, Sterry Martin, Sebastian Walcott, Derinaj Russell and Janero Miller.
#The future Stars Series will afford potential players the opportunity to be selected for the New Balance Future Stars Series World Combine International Week, scheduled for September at Fernway Park, home of the Boston Red Sox.
#Sands said Neymour has the potential to sign a pro contract as early as next year, so this will be another opportunity for him to widen his potential for future consideration.
#"Cherif is a top guy. He's a prospect for next summer," Sands said.
#"He's one of the upcoming shortstops. "He's probably one of the best that I've seen in a while. But I feel this is a great opportunity for all of the guys because they will get to play against the best in the world at the showcase. "They get to see where their talent is and what they need to do, if they are on par with them and how much work they need to do to get to the next level. I feel this is a great opportunity and we need to get more exposure for them like this."
#Neymour said he's just eager to go to Florida and put on a show for the scouts like he did at the Pinewood field. "It doesn't matter who I get signed with, I just want to play the game," said Neymour, who has been playing since the age of 10 at Freedom Farm and has developed into a slick fielding shortstop. "This was something my mommy put me in and I got in love with it. It's been good so far."
#His mother, Cherkimber Neymour, family and friends hosted a cook-out on Saturday at the Pinewood Park to help raise funds to assist her son in his travel expenses to the showcase in Bradenton.
#"I feel proud of him. He's come a long way. He's worked hard at it. He loves it," said the former softball player. "He puts in the time and effort, so we just want to continue to support him in his dream of playing professional baseball. I am very proud of him."
#Neymour said he's looking forward to an exciting time in Florida as he looks to follow in the footsteps of the other Bahamians who are now either playing in college or in the pro ranks.
#"I think my chances are pretty good. I just have to keep working hard," he said. "Guys like Jazz Chisholm and Lucius Fox have really inspired me to continue to play the game. Whenever they come home, they help me out with my game."
#For Neymour, it would be a dream come true if he can go on and play professional baseball.More like this story