As of Tuesday, February 18, 2020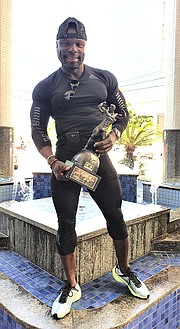 Jimmy Norius
#By BRENT STUBBS
#Senior Sports Reporter
#bstubbs@tribunemedia.net
#AFTER being an International Federation of Bodybuilding and Fitness (IFBB) professional in 2018, Jimmy Norius had to slowly work his way on the international stage to compete. Over the weekend, he participated in just his second pro show at the Angela Borges Fitness Cup Championships in Camboriu, Brazil.
#He placed fourth overall in the men's classic physique pro division, losing out to three competitors from Brazil, but Norius said it was all about getting back on stage and making his presence felt.
#"I did my best. I came in as the most conditioned athlete, but I was the smallest," Norius said. "I managed to make the final and finished in the top four and I got a small cash prize and a trophy. I will also be ranked, which will allow me to qualify for the World Championships in Rome later this year."
#Norius, 45, said the competition brought out the best in him.
#"This was the best condition that I've been in when you look at my size and weight," he pointed out.
#"As you get older, you try harder to keep your weight down as opposed to keeping it up. So I was trying to bring my weight down so I could really be competitive out there."
#Since turning pro in 2018, Norius competed in a men's physique competition in August that year in Aruba because of an injury to his knee. He didn't fear as well, so he took last year off to fully recuperate and get ready for this year.
#"I'm in the right category now, competing in the men's classic physique," he said. "This competition showed that I am where I need to be competition wise. But of course there is still some more work that I need to do to be able to compete for the top spot."
#Norius, a local physical fitness instructor, is expected to take the next month off to recuperate from his training for this show.
#In the meantime, he will be working on getting his wife ready for a show in West Palm Beach, Florida, in March.
#He is looking forward to competing again in Miami, Florida, in July.