ON THE REPLAY: The CC Sweeting Cobras got a 43-37 win over the CV Bethel Stingrays last night on day 2 of the Hugh Campbell Basketball Classic. Photo: Shawn Hanna/Tribune Staff
As of Wednesday, February 19, 2020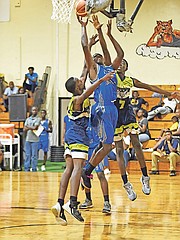 #By BRENT STUBBS
#Senior Sports Reporter
#bstubbs@tribunemedia.net
#With a last minute adjustment to the schedule and the brackets, things are starting to take shape in the 36th annual Hugh Campbell Basketball Classic.
#The prestigious senior boys basketball tournament moved into day two yesterday at the AF Adderley Gymnasium with a couple teams moved around from one pool to the next after the CI Gibson Rattlers and Grand Bahama's Tabernacle Baptist Falcons decided not to compete this year. The adjustments to the pools are as follows: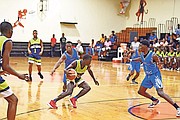 #Pool one – Doris Johnson, Sir Jack Hayward, RM Bailey, CR Walker and Anatol Rodgers.
#Pool two – St George's, Queen's College, Temple Christian, Jordan Prince Williams, Eight Mile Rock and Galilee.
#Pool three – Sunland Baptist, Government High, St John's, Charles W Saunders and Akhepran International.
#Pool four – CC Sweeting, Mt Carmel, CV Bethel, Kingsway Academy and Gateway Academy.
#Tuesday's results are as follows:
#Scarabs 53,
#Giants 49
#As the smallest team to play so far in the tournament, Akhepran produced the biggest upset as Joshua Gardiner hit the game-winning basket just before the buzzer sounded as they went on to chop down St John's.
#In a keenly contested match-up reflective of 'Goliath versus David,' Akhepran came from a 28-20 half-time deficit to surge ahead in the third quarter and they held on for the win in the fourth as their midget-sized team outran the taller St John's team. "It was a good moral victory for us. We knew we were in a transition because of our size, but it felt good to come in here and compete in this atmosphere. I know we are small in stature, but our hearts are big," said Scarabs' head coach Dominique Fernander. "We come to fight every game."
#Fernander said if they can survive through Saturday for the semi-final, he would be quite content with his team.
#Falcons 61,
#Suns 37
#After getting off to a slow start, leading 20-11 at the end of the first quarter, Jordan Prince Williams shifted into another gear and went on to post a commanding 40-24 advantage at the half. By the end of the third, they were well ahead, 53-32.
#Barkley Cadet led their attack with 16 points and Tayshaun Wallace had 13. Nathan Pratt contributed nine, Darius Brown had six and Trenton Hutchinson chipped in with five. "We played aggressive. That was all I asked my guys to do tonight," said Falcons' head coach Ernest Saunders. "So I want to say kudos to them. Hats off to them."
#Saunders, however, doesn't want his team to rest on their laurels because he admits that it's only going to get harder as the tournament progresses with the intensity expected to pick up today with the teams from Grand Bahama.
#Taleo Bethel led Temple Christian with 14. Their next highest scorer was Michael Oscar with seven.
#Cobras 43,
#Stingrays 37
#La'Shaun Bassett scored 12 points and Rickey Moxey Jr added 10 as they produced a 1-2 punch to lead CC Sweeting to victory. Haywood Seymour chipped in with five.
#Gilverdo Bain led the losing CV Bethel with 10 points. Donte Whyms had six.