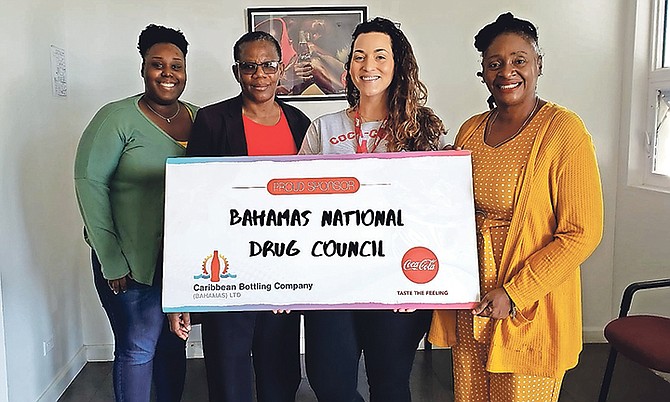 Gabriella Suighi, CBC communications marketing manager, with Bahamas Drug Council representatives.
As of Friday, February 21, 2020
#THE Caribbean Bottling Company is proud to support the upcoming Bahamas Drug Council's Fun, Run/Walk. CBC will keep the walkers, runners and joggers hydrated with Dasani water.
#"CBC is committed to supporting a number of events, activities and initiatives that impact the lives of Bahamians around the country," said Nikia Wells, CBC communications marketing manager.
#"Groups like the Bahamas Drug Council have a huge positive impact on young Bahamians. And we are proud to support the advancement of their work," she added.
#According to Bahamas National Drug Council organisers, since its inception in 1985, the programme has been committed to developing programmes that aim to discourage drug use among students. The walk will take place at the Arawak Cay Heritage Site, West Bay Street, on March 7.