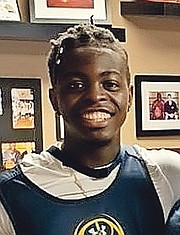 Blaize Darling Jr
#By BRENT STUBBS
#Senior Sports Reporter
#bstubbs@tribunemedia.net
#AFTER leaving the Bahamas as a two-sport athlete, Blaize Darling Jr has now found his niche and is making his presence felt as a basketball player.
#Darling Jr, 18, just completed his 2019/2020 season with the Pro Holmes Sports Academy (PHSA) in Tampa, Florida and now that has helped him to secure a full four-year athletic scholarship to compete for the Warner University Royals in Lake Wales, Florida.
#When asked why he settled on Warner University after he received a number of offers from colleges and universities in the United States, Darling Jr said he wanted to be a part of a basketball programme that needed him and he could make an instant impact.
#Additionally, he said the Warner Royals men's basketball head coach Sean Hanrahan tweeted that Darling Jr was "A Great Fit," while his Pro Holmes Sports Academy's coach Aaron Holmes tweeted: "Very happy and excited for you @blaize_242. You earned it. You are the definition of a character guy. It's been an honour and a pleasure to coach you the last few months."
#As he prepares for his collegiate freshman season in August, Darling Jr said he has already been told by Hanrahan that he's expected to come in and be a "team leader on an off the court, whether that is passing the ball or taking control of the game."
#Darling Jr, who also likes the fact that he will remain close to home, said he will now spend the summer working on his strength and conditioning in Orlando, Florida. "When I get to the next level, I hope it can be a game changer," said Darling, an 18-year-old 6-foot, 3-inch guard. "I hope Pro Holmes has really prepared me to go to college and if I had to do it all over again, I would have preferred to go the same route that I did, doing it after high school before I went to college.
#"It was a really good decision considering that I was a bit young. I got a lot of exposure knowing that a lot of colleges had expressed interest in me. So it was a really good decision that I got me to my goal, which is to play college basketball."
#Thanking God for giving him the ability, Darling Jr said he could not have done it without the support of his parents, Daphne and Baize Darling Sr, his coaches, team-mates, family and friends, who all encouraged him to keep a positive attitude in everything he did.
#Darling Jr had an opportunity to also run track and field, but he said he decided to stick with basketball because it was what initially got him started on his journey when he went to the United States.
#And with the USA drastically affected by the spreading of the coronavirus pandemic, Darling Jr said he's taking the necessary precautions as prescribed by the authorities.
#"I'm not worried at all because God has all of our backs and he is in control," he said. "Whatever is his will shall pass."
#Like every other student, Darling Jr is waiting out the process before the all-clear is given and he can get ready for college in August. "I'm going to be doing a lot of high level training and studying the sport so that I can be ready for college," he said.
#"I just want to sharpen my skills so that I can be ready to play when I go to Warner. I want to be ready to go to the next level. I want everybody to watch because I'm about to do something spectacular."