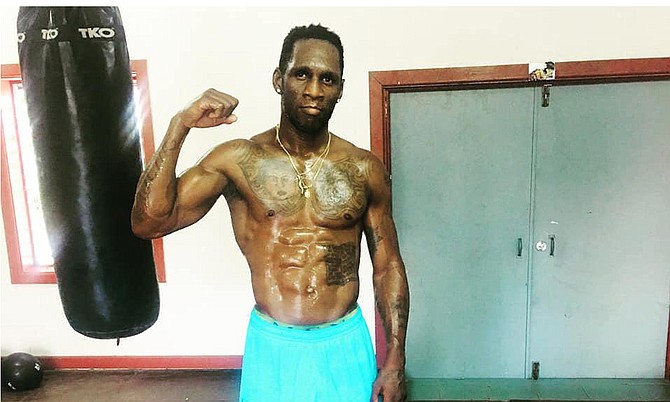 Carl Hield
#By BRENT STUBBS
#Senior Sports Reporter
#bstubbs@tribunemedia.net
#Bahamian amateur boxer Carl Hield said he's still looking forward to continuing his long and illustrious career despite the postponement of the 2020 Olympic Games until 2021.
#The 32-year-old welterweight is the country's top amateur boxer, who was preparing to make his first Bahamas team for the Olympic Games that was scheduled for July 24 to August 9 in Tokyo, Japan. But this week, the International Olympic Committee announced that they will postpone the Games until next year.
#"I at the point where I was getting ready to go and qualify for the Olympics," said Hield in an interview with The Tribune from his training site at the East Tampa Boxing Gym in Tampa, Florida under the watchful eyes of coach Zach Campbell.
#"All the gyms are closed, so you really can't go out and train. You have to train from home. You have to do your skipping and shadow boxing there. It ain't the same, but it should be for the better."
#In the lead up to the qualifying for the Olympics this year, Hield decided to move his training camp from Cuba to Florida where he said he was able to get in more workout sessions. But since the spread of the Covid-19 to the United States, he said all of the boxing facilities have been shut down.
#He said as a result of the Olympics being postponed until next year, he intends to continue his career at least for two more years.
#"I will be training to compete at the next Olympics and the next World Championships in 2022 before I finish my career," he pointed out. "I was going to stop after next year because they would have had the World Championships then.
#"But because they are having the Olympics next year, they will have to push the World Championships back to 2022, so I will compete until then. I want to compete in the next World Championships after I missed the last one last year. So I want to compete at the next Olympics and the next World Championships before I call it quits."
#Hield, who is contemplating returning home when his career is completed to pass on his experience to the future amateur boxers as a coach, said he's forced to remain confined to his residence in Tampa and train because of a lockdown in the USA.
#"You can only come out for about a hour to do your shopping and exercise," he said. "Everything else, I have to do it at home because the gyms are all closed. I think once this virus passes over us, we will get the chance to compete in the qualifier, but that may not be until August or September or they might wait until next year.
#"We are now into the third week where everything here is closed down. You can't go to the gym to train because they are all closed. We just have to wait and see what the outcome will be when everything is finished. The lockdown is supposed to be until about April 20 over here. So they can't have a qualifier anytime soon."
#Hield said he's grateful to the Bahamas Government for their support through the financial assistance from the Ministry of Youth Sports and Culture. As the only Bahamian amateur boxer on subvention, Hield said he continues to be the standard bearer for the sport and he hopes that he will be rewarded for his efforts.
#"Everything right now is postponed until July or August because they want to be safe than sorry," Hield said.
#"I am just doing my sit-ups, push-ups and shadow boxing. That's all I can do. No coach can come in contact with you because everybody is concerned about the disease spreading.
#"So while we are on a lockdown, we still have our hour to come out and do some light workout and shop. With the gyms all closed like the other sports like basketball and everything else, you have to stay at home and train. You have to do that until everything is cleared up so you can start training again."
#Before he's done, Hield is hoping to add to his résumé which includes two appearances at the Commonwealth Games, first in New Delhi, India in 2010 where he got a bronze medal and then in 2006 in Melbourne, Australia where he lost out in the round of 32. He also participated in two World Championships in Baku, Azerbaijan in 2011 and again in Milan, Italy in 2009, but he failed both times to get out of the round of 64. He came close to qualifying for the 2016 Olympics in Rio de Janeiro, Brazil, but missed out on the opportunity at the 2016 World Qualifying Event in Baku, Azerbaijan, along with five other competitors, including Rashield Williams, Davon Hamilton, Israel Johnson, Keishno Major and Rudolph Regis.