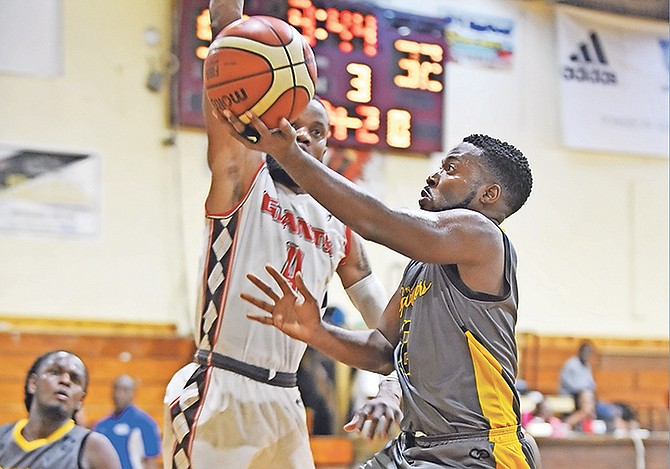 The NPBA has adhered to the announcement on Sunday to cease all local sporting activities after the first case of the coronavirus in New Providence. Photo: Shawn Hanna/Tribune Staff
#By BRENT STUBBS
#Senior Sports Reporter
#bstubbs@tribunemedia.net
#New Providence Basketball Association president James Price said they wholeheartedly agree with the Bahamas Government on suspending all local sporting activities until further notice.
#The NPBA was participating in their postseason with play up to Saturday night at the AF Adderley Gymnasium before they adhered to the announcement on Sunday to cease all local sporting activities after the first case of the coronavirus in New Providence was announced over the weekend.
#"I don't think this will affect the association. Right now, I think it's more about the safety of the fans, players and coaches," Johnson said.
#"The safety of the fans, players and coaches is more important to us than what comes into the association right now."
#The NPBA was scheduled to continue its semi-final series last night, but those games were called off.
#No other games will be played until the suspension has been lifted.
#In the men's division one play, the defending champions Commonwealth Bank Giants took a 1-0 lead on the Breezes High Flyers with a 99-80 rout and the Rockets blasted the University of the Bahamas Mingoes 86-59.
#In division II, the Leno Eagles Nest stunned the Sun Oil Rockets 86-78 to snatch a 1-0 lead, while the other match-up between Your Essential Store Giants and the Asphalt Maintenance Pirates was suspended.
#"We have to work with whatever period that is set for us to play again," Price said. "The (Bahamas Basketball) federation will give us the mandate as to when the nationals will be played once they give us the green light to play again.
#"So we will make the adjustments to the semi-finals and the finals. But right now, we're excited about where the series are right now. All the teams, with the exception of one, have played one game, so no one is at a disadvantage. Everyone can make an adjustment because it's still early in the series."
#Looking back at the postseason so far, Price said it was what he anticipated and a little more.
#"The match-ups have been competitive," Price said. "I'm looking forward to some exciting games whenever we continue the series and determine who will play in the finals."
#As for his first year in office as president, Price said there have been some challenges and this is the biggest one the association has had to face, but he's confident that they can overcome it and resume the postseason when the green light is given for play in a couple of weeks.