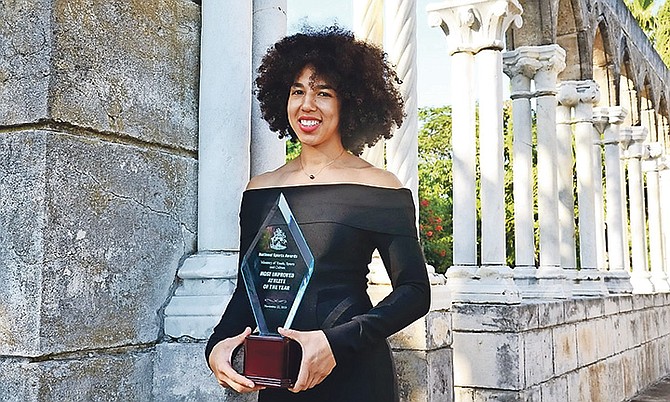 Cynthia Rahming
#By BRENT STUBBS
#Senior Sports Reporter
#bstubbs@tribunemedia.net
#SHE was on the brink of making history as the first Bahamian to compete in judo at the Olympic Games. But Cynthia Rahming said it was a blessing in disguise that the Tokyo Olympic Games have been postponed from 2020 to 2021.
#"I definitely think that God has his reasons for everything," Rahming said. "It is in my favour because it gives me a whole year to qualify and to do it where it's more of a secured position. So right now, I'm just training at home so that whenever they do open up competition, I will be in a better position to qualify."
#Just as the coronavirus started to spread, Rahming's trip to the Chilean Open with a few other Bahamians from March 14-15 was called off. It would have been the Bahamians' last chance to qualify for Tokyo, had the games remained intact for July 24 to August 8, 2020.
#Rahming, 25, was sitting on the outside of the qualifying list for the Olympics in the female under 57 kilogram class, but she was dropped off it and would have had to make the cut from the Pan American region by this month, which would have been her last shot to qualify.
#"So it was really a relief," she stated. "I'm glad that I now have a longer period to try and officially qualify."
#Having competed in the sport for the past 15 years, Rahming has travelled extensively as a member of the Bahamas Judo Federation where she has been able to wrack up the mileage to make up an impressive résumé.
#Her trips included the Pan American Open in Brioche, Argentina in 2020; Santo Domingo, Dominican Republic; Quito, Ecuador; Panama City, Panama and Lima, Peru in 2019; Santo Domingo in 2018; Buenos Aires, Argentina and Lima, Peru in 2016 and San Salvador, El Salvador; Buenos Aires, Argentina; Montevideo, Uruguay and Santiago, Chile in 2015.
#She has also competed in the European Open in Lisbon, Portugal in 2020; Sofia, Bulgaria in 2019; Prague, Czech Republic ; Wart, Austria and Sofia, Bulgaria again in 2015. Additionally, Rahming has competed in four Grand Slams in Tokyo in Osaka in 2019 and Tokyo in 2017, 2015 and 2014, as well as the Grand Prix in Tel Aviv, Israel in 2020; Cancun, Mexico in 2017; Havana, Cuba in 2016 and both Budapest, Hungary and Dusseldorf, Germany in 2015.
#In preparation for her debut at the Olympics, Rahming has also contested the Continental Championships in Lima, Peru in 2019; Havana, Cuba in 2016 and Edmonton, Canada in 2015 and she also participated in the World Championships in Tokyo, Japan in 2019; Astana, Kazakhstan in 2015; (Juniors) in Fort Lauderdale, Florida in 2014; Rio de Janeiro, Brazil in 2013; Rotterdam, Netherlands in 2009 and as a Cadet in Budapest, Hungary in 2009.
#In non-Olympic qualifying events, Rahming also got a taste of competition at the Pan American Games in Lima in 2019; the Central American and Caribbean Games in Barranquilla, Colombia in 2018; the Commonwealth Games in Glasgow, Scotland in 2014; the Youth Olympic Games in Singapore in 2010 and the Central American and Caribbean Games in Mayaquez, Puerto Rico in 2010.
#With the country on a 24-hour lockdown and confined to home, Rahming said she's appreciative of the fact that her father, D'Arcy Rahming, the president of the BJF, has made it possible for her to utilise a training facility at home. "Judo is the type of sport where I would need a partner to improve my technique, but what I primarily was doing was gym work and cardio training," Rahming said. "So the postponement has given me a relief. I can reset my training and slow it down a bit.
#"The Olympics was coming up so fast and the qualification was going to end for me next month, but because we won't have it anymore this year, this was a refresher button that I got to push because I can now look at going somewhere else to train when this coronavirus and everything is over and done with."
#Having trained in Japan for the a month in December, Rahming said the plan is to go to Europe for the more intense training,
#"In Japan, I was able to improve my technical side, but it didn't give me the upper edge where I can just be that energiser bunnie, who just goes and goes and goes," she quipped. "So I really want to go to Europe and train there."
#And if she does make the cut and qualify as the first Bahamian to compete in the Olympics in the sport of judo, Rahming said it would be a humbling experience.
#"Judo isn't an easy sport," she pointed out. "It's not at that level as the other sports that we compete in. It's very complicated. It's a very stressful sport, so I would be honoured and ecstatic if I got the opportunity to qualify for the Olympics."
#Rahming thanked Amarillis Savon and Oneysi Pons for their assistance in coaching her along the way, both on the local and international scene.