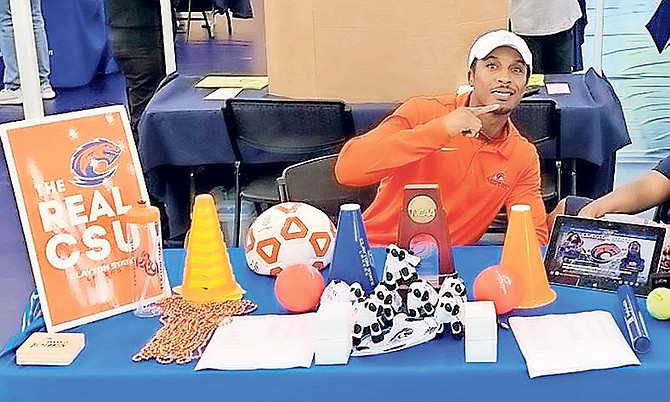 Chris Brown, head coach of the Clayton State University Lakers track and field team.
As of Wednesday, April 1, 2020
#By BRENT STUBBS
#Senior Sports Reporter
#bstubbs@tribunemedia.net
#He is now in his second year as the head coach of the Clayton State University Lakers track and field team, but veteran quarter-miler Chris 'Fireman' Brown is still committed to completing his long and illustrious track and field career at the 2020 Olympic Games.
#Now that the games have been moved from July 24 to August 8, 2020, to July 23 to August 8, 2021, Brown said he's even more committed to participating in his sixth and final Olympic Games for the Bahamas, preferably as a member of the men's 4 x 400 metre team.
#"I was kind of disappointed that they postponed the games this year to 2021, but I am also kind of relieved because I didn't feel that I was in the tip-top shape that I wanted to be in," Brown said.
#"So I have more time to prepare for next year. This has given me time to get my body recovered so I can be better prepared. I was looking for this to be my last year, but the quest remains the same and the goal and the objective is still the same. So the Olympic Games next year will be it for me."
#With this being his swan song, Brown said he wants to go out on his own terms and so he's trying to deal with the coronavirus pandemic like everybody else and has resorted to working out at home, doing his push-ups and jogging whenever he can.
#"This delay will help all of us who have to regroup and recover from injuries and other ailments," Brown said. "Whatever you were lacking this year, you have the time to bounce back and be ready to compete next year.
#"Mentally my mind was still going back and forth. I am in great shape, but my mind was going back and forward, so now this delay has given me the chance to really focus and get into that frame of mind where I'm ready to get back on the track and train."
#As the head coach of a new, young programme at Clayton State, Brown said he has had to juggle his time with preparing his athletes for competition, while at the same time focusing on what he had to do to train himself for the upcoming season.
#"As long as you have a master plan, anything can happen," said Brown, who started at Clayton State in 2018 as an assistant coach before he was elevated to head coach in 2019. "I lift my weights in the morning, train my kids in the evening and either early in the morning or later in the evening, I get my running in. At the end of the day, I was concentrating more on getting my strength up. That was why this postponement will help me. This year was supposed to be a long year, but a short year, but now I have a longer year to prepare for next year."
#In ensuring that he satisfied his bosses at Clayton State, Brown said he was able to watch as several athletes produced personal best times indoors and things were looking up for them as they were making the transition to the outdoor season.
#"We were not putting any pressure on them. We just wanted them to get a feel of the track," he said. "Unfortunately this incident occurred and they were not able to continue competing. But everything happens for a reason, so I'm just being positive that God will work it out and they will come back stronger for next year."
#With school closed due to the spread of the coronavirus, Brown said everybody is locked down at home and he's enjoying the time with his wife, Faith, and their three children, whom he ensures have ample time get out of the house and exercise a bit.
#"My kids need some outside time, so every day we try to go outside and burn some energy," he said. "That's the main focus for them instead of being cooped up in the house all day. Outdoor time is very critical for the kids, so we just pray that God will dispatch his angels over us so that no weapon formed against us will prosper.
#"So I am just trying to stay safe and keep my family safe and hope that this too shall pass away. We are blessed, so far God has done that. So we're just waiting on time for this to pass and we can get back to our normal way of living and I can get prepared for my final Olympics."
#During their lock down, Brown said his wife's father passed away, not from the coronavirus, and like it has been mandated, they had the funeral service last week with a limited amount of persons present.
#He said it was a difficult time for them because there were so many people who wanted to join them in their bereavement.
#"She was a daddy's girl and so she took it really hard," Brown said. "So we're coping and dealing with that too. But we all know it's a process and we all have to go through it together."
#Brown, 41, has been the anchor of the men's 400m for the past three decades. He's won an individual medal in the men's 400m in every major global track and field meet, except for the Commonwealth Games, the World Outdoor Championships and the Olympics.
#But the former national record holder, who has medalled numerous times at the CARIFTA Games, Central American and Caribbean Games, Pan American Games and the World Indoor Championships, has been a part of just about every male 4 x 400m relay team that has ascended the podium at all levels of competition.
#Highlighting his list of achievements have been his inclusion on a gold, a silver and two bronze medal winning 4 x 400m relay teams at the Olympics and a gold, two silver and a bronze at the World Championships. Additionally, he competed on two silver winning teams at the World Relays and silver and bronze medal relay teams at the Commonwealth Games.
#The native of Eleuthera has produced a lifetime best of 44.40 seconds in the one-lap race on June 6, 2008 in Bislett, Oslo, and his time of 1:49.54 in the two-lap 800m he ran on August 17, 1998 in Maracaibo, Venezuela still stands as the Bahamian national record.
#Running the lead-off leg at the 2012 Olympics in London, England, Brown helped the quartet of Demetrius Pinder, Michael Mathieu and Ramon Miller establish the national 4 x 400m record of 2:56.72 with their gold medal performance over the United States and Trinidad & Tobago.
#As the country joins the world in dealing with the coronavirus, Brown extended this message to the Bahamian people: "I just want to encourage everyone in the Bahamas to be safe, stay blessed and enjoy this time with your family.
#"Tomorrow is not promised and we will all get through these different and difficult times. God bless," he added.