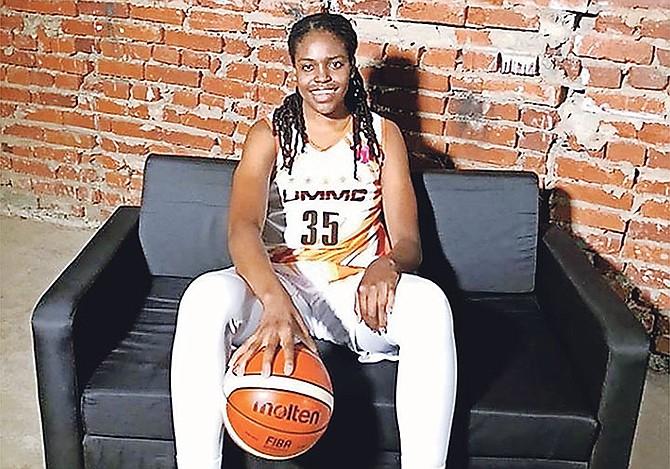 Jonquel Jones
As of Thursday, October 31, 2019
#By RENALDO DORSETT
#Tribune Sports Reporter
#rdorsett@tribunemedia.net
#JONQUEL Jones rejoined Russian Premier League powerhouse UMMC Ekaterinburg this WNBA offseason as the team looks to repeat as EuroLeague champions.
#Jones is with the team in Russia but has yet to make her season debut and she remained sidelined during a 81-68 win over Reyer Venezia yesterday.
#A stacked UMMC Ekaterinburg roster also includes several WNBA stars – Finals MVP Emma Meesseman of the Washington Mystics, Brittney Griner of the Phoenix Mercury, Allie Quigley and Courtney Vandersloot, both of the Chicago Sky.
#Last season, Jones' first with the club, Ekaterinburg captured their second consecutive and fifth EuroLeague title with a 91-67 win over Dynamo Kursk in Sopron, Hungary. She appeared in eight games averaging 19.6 points and 7.6 rebounds per game. She shot 60 per cent from the field, 52 per cent from three-point range and 80 per cent from the free throw line.
#She looks to continue her offseason success which has spanned both Europe and Asia.
#In 2017, Jones became one of the Women's Chinese Basketball Association's most dominant players and led her Shanxi Xing Rui Flames to a runners-up finish in the final. The star forward averaged a team-high 29.3 points, 18.8 rebounds and 2.9 assists over 31 games for Shanxi Xing Rui.
#In the 2016 offseason, Jones was selected No. 5 overall by Woori Bank in the Korean Basketball League and led the team to a championship title. On the season she averaged 15.8 points, 14.3 rebounds and 2.8 blocks – all team leads – in 24 minutes per game for Woori Bank in 38 games. At the league's award ceremony, Jones earned the Foreign Most Valuable Player Award, Defensive Player of the Year award and was named "Best Five" in the league.
#Her offseason success has translated to the WNBA in recent years.
#Jonquel Jones and the Connecticut Sun fell one game short in their historic run toward a WNBA Championship last month, but the fourth year forward has established herself as one of the premier players in the league with her standout season.
#Jones averaged 19.2 points and 11 rebounds per game in the series and posted doubles doubles in both wins for the Sun, but ultimately lost in the fifth and deciding game on the road to the Washington Mystics. It was a season of accolades for the Sun star and Grand Bahama native.
#Jones led the league in rebounds with 9.7 boards and blocked shots at a career high 2.0 per game. She also finished fourth in defensive rebounds with 6.4 per game. This season, Jones grabbed 10 or more rebounds 16 times, including a season high 22 rebounds on May 31.
#She finished the regular season with starts in all 34 appearances, averaged 14.6 points and posted career highs in steals (1.5 per game) and minutes played (28.8 per game). She also won her second rebounding title in four seasons.
#Jones was named to the All-WNBA Second Team, the WNBA All-Defensive Team for the first time, finished third in Defensive Player of the Year voting, was a WNBA All-Star and was named Eastern Conference Player of the Week four times.