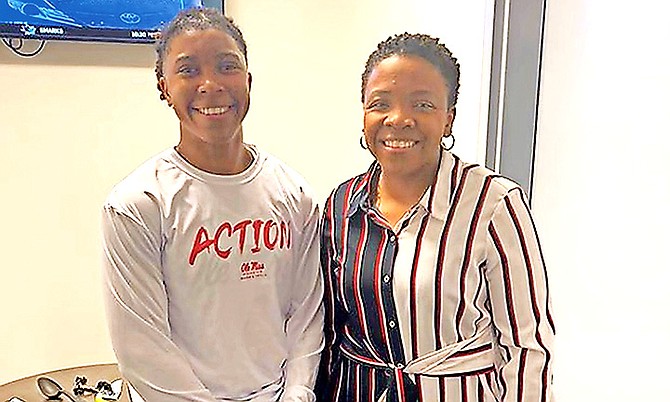 Valerie Nesbitt and coach Yolett McPhee-McCuin.
As of Wednesday, April 22, 2020
#By RENALDO DORSETT
#TribuneSports Reporter
#rdorsett@tribunemedia.net
#Valerie Nesbitt addressed the issues surrounding her dismissal from the Ole Miss Women's Basketball programme last season alongside head coach Yolett McPhee-McCuin.
#McPhee-McCuin hosts a series of conversations on social media and Nesbitt was her latest guest discussing changes in her behaviour since the surprising announcement last January, just 15 games into her tenure with the team. Nesbitt once again appears on the team's official roster for the upcoming 2020-21 season.
#"Where I went wrong was not being able to understand my flaws and weaknesses. I wasn't open enough to people that wanted to help me. I just knew within myself, I just wanted to do it my way and discipline is important, especially at this level and you need that structure.
#"I didn't allow the people that were trying to help me to better myself, I was like trying to do it on my own so that's where I went wrong," Nesbitt said.
#"I was just comfortable in mediocrity, I just wanted to be comfortable all the time so when I got removed from the team I was in a bad place and I just wanted everything to change. I was tired of the same results all the time. I always used to blame my coaches and I never saw I was the problem so I had to do a lot of self-check. Self-checking, that helped a lot so now that I know where I go wrong and where I went wrong I'm able to change it and allow people to help me."
#In her last appearance with the Rebels, Nesbitt finished with four points in 13 minutes of the team's 79-35 loss at No. 10 Texas A and M Aggies on Monday to open Southeastern conference play.
#At that point, Ole Miss fell to 7-8 on the season.
#She was in the midst of making what appeared to be a seamless transition to NCAA Division I basketball following two years at the JuCo level. She led the Southeastern Conference in steals at 3.2 takeaways per game and had six games this season with at least four.
#She was the Rebels' second-leading scorer at 11.3 points a game and was also second in minutes played at 24.3 per game.
#"First I was like I needed to start with God, so our assistant Chris [Ayers] really helped me to know God and to understand things in the Bible like love and discipline and that helped me to change my perspective on everything I went through,' Nesbitt said. "I would go to therapy just to talk, just to let some stuff out how I'm feeling. I finally tried to expose my vulnerability to people and that's helped me a lot opening up to know that everybody isn't here to hurt me and that was my biggest problem thinking everyone was out to get me."
#Nesbitt was the first Bahamian player signed by McPhee-McCuin in her tenure as the head coach of the Rebels. She has successfully recruited Bahamians to her programmes in the past – Jonquel Jones to Clemson and Shalonda Neely to Jacksonville.
#The Rebels finished the season at 7-23 and ended the year on a 17-game losing streak, winless in the SEC.
#At the time of January's announcement, McPhee-McCuin called it one of the toughest decisions she has made in her career.
#"Right now, we're trying to build a positive culture so that we can have a programme that lasts. I'm really focused on above-the-line actions. Right now, Valerie just needs a pause on basketball here with us. Her actions just have not been above-the-line consistently.
#"So I just believed it was in our best interest to move separate ways," she told the Oxford Eagle. "No level of player, no talent can make me sacrifice what we're trying to build. I've known (Nesbitt) for a long time. She'll probably be a part of my life moving forward, just not in this fashion, right now. I'm just giving her that freedom to be able to right some of her wrongs. And not just right her wrongs, just grow personally. That's just where we are right now."
#The Rebels will have the No.1 recruiting class in the SEC and No.13 class in the nation for the 2020-2021 season.
#Playing in the SEC for the last two years, the Rebels have gone up against 13 nationally ranked squads, 12 of which have come in SEC play.
#In her first season at the helm (2018-19), the Rebels finished 9-22 – 3-13 in SEC play.
#The season was highlighted by the first ranked road win for the Rebels since 2011 when Ole Miss defeated the Kentucky Wildcats for the first time since 2007.
#Nesbitt previously starred at Chipotle Junior College where she averaged 17.1 points, 6.9 rebounds and 3.8 assists per game as a sophomore.
#As a freshman, she was named a Panhandle Conference first team selection when she averaged 10.5 points, 3.5 rebounds and 3.2 assists per game while shooting 46 per cent from the floor in 26 contests.