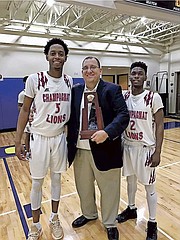 BRAITHE FERGUSON (far left) and Stephon Johnson with Lions coach and athletic director Danny Serrano (centre).
#By RENALDO DORSETT
#Sports Reporter
#rdorsett@tribunemedia.net
#CHAMPAGNAT Catholic School has become a major pipeline for Bahamian basketball talent at the high school level, and now the latest products of the Hialeah, Florida institution have been recognised for outstanding seasons.
#Braithe Ferguson and Stephon Johnson received state tournament honours for the Lions at the conclusion of their 2016-17 season.
#The duo are two of three Bahamians on the Lions' roster along with former junior national team member Michael Cartwright.
#Ferguson was named to the first team and had one of the most dominant tournament runs in the field, while Johnson was named to the second team.
#Champagnat suffered an 80-71 loss to Trinity Christian in the Class 3A state semi-final, but Ferguson finished with 27 points, nine rebounds and three blocked shots.
#The 6'6" senior was one of the leading scorers for the Lions all season. The two-sport star became a viral sensation last year when a video of him leaping over a fence made the rounds on social media with over one million views and features on Bleacher Report, World Star and ESPN.
#Thus far, he has drawn interest from VMI, Western Oklahoma State and Broward College in his senior season and second with the Lions programme.
#Johnson has made an immediate impact in his first year at Champagnat. The 6'0" junior point guard was named to the Class 3A all-state tournament second team. He scored 13 points in the final against Trinity Christian.
#Both players starred locally for Kevin Johnson's CI Gibson Rattlers before their move to the United States. It was the final season for Lions head coach Danny Serrano, who was an assistant coach when Champagnat Catholic advanced to four consecutive seasons from 1998-01 and guided the Lions back to state in 2012.
#Several Bahamian players have matriculated through the programme in that timespan, most recently, Nashad Mackey – currently at Daytona State but bound for Ridley College in the fall, Jaron Cornish, Denzel Jenoure and Oswald Parker at Broward College.
#Champagnat Catholic finished the regular season at 23-6 and entered the FHSSA state tournament ranked No. 3 in Class 3A in the FABC/Source Hoops poll.