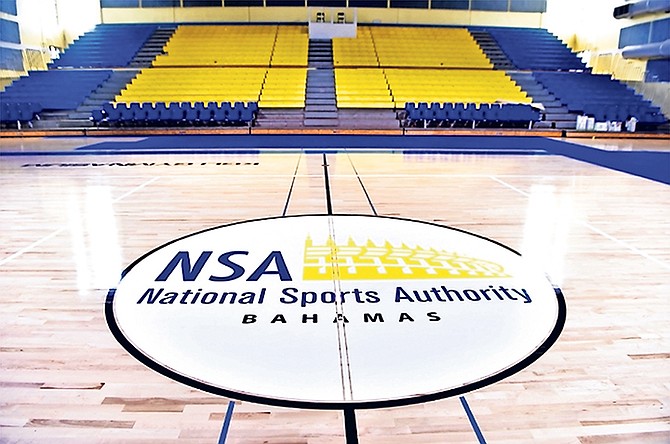 #By BRENT STUBBS
#Senior Sports Reporter
#bstubbs@tribunemedia.net
#THE National Sports Authority will have a big role to play with the facilities they manage at the Queen Elizabeth Sports Center with the components of entertainment and sports to ensure that Bahamians get back on their feet in the aftermath of the Covid-19.
#NSA chairman Burton Rodgers said it will be a hard task because all of their facilities are officially shut down, but his board and the NSA's management and staff are working on ways in which they can deal with the global prospective in the coming months.
#"Before 9-11, we had no issues going to the airport, but now we have to almost get naked before we travel," he said. "This situation has almost the same effect because social distance is now a term. It's not just something that we speak about. But we know that entertainment and sports are the largest industries in the world.
#"We see the effects when we turn on our televisions. There's no NBA, no NFL, no tennis, no golf. We have to watch so much repeat. So it's a starvation for what we miss. Entertainment is the same as sport because we don't get as much of it now because we are so focused on what is going on with Covid-19."
#During a board meeting between the seven members, Rodgers said they looked at a number of initiatives that they hope to have implemented after they engaged in conversations with Major League Baseball (MLB), the National Football League (NFL), the National Basketball Association (NBA), Carnival executives, ESPN and the National Collegiate Athletic Association (NCAA).
#Joining Rodgers on the board are NSA general manager Quinton Brennen, Ministry of Sports' Director Timothy Munnings, Bahamas Olympic Committee representative Wellington Miller, Gravette Brown, Telford Munnings and Gregory Bonimy and consultant Ulrick 'Rick' Fox.
#Fox played in the NBA with the Boston Celtics before he went to the Los Angeles Lakers and captured three consecutive titles and is now in a budding acting career.
#Rodgers said he's confident that the board assembled will be able to get the job done.
#"One of the things we will have to do is temperature check on the forehead of persons when they enter the facilities," he said. "The issue is I don't want to have an enjoyment with the possibility of dying. So how do we, from a mental aspect, get people to do these things?
#"In order to do that, we will have to put some stringy methods in place in conjunction with the Ministry of Health, the Ministry of Sports and the NSA. We will try to put things in place that people will feel very comfortable in the very near future to attend the events."
#With the country under a 24-hour curfew and weekend lock downs through the end of the month, Rodgers said there is zero revenue being generated by the NSA at their venues that include the Carnival Site, the Thomas A Robinson National and Track and Field Stadiums, the Kendal GL Isaacs Gymnasium, the Betty Kelly Kenning Swim Complex, the National Tennis Center, the Bahamas Hotrod Association facility, the Bahamas Golf Federation's Driving Range, the Roscoe L. Davies Soccer Developmental Center and the Baillou Hills Sporting Complex that host softball and baseball.
#"We are a venue and we employ a ton of people," he stated. "When you don't have any people coming into your venue, you are not taking in any revenue. We haven't had any major event since the passing of Hurricane Dorian, for the exception of the college bowl game and the local track and field meets.
#"Right after Dorian, we started to get back to normal, but Social Services had to use Kendal Isaacs Gymnasium as a shelter as a storage facility and also to host the evacuees from Hurricane Dorian in Grand Bahama and Abaco. So the property has been under siege from October until recently."
#With this being the first year in office since taking over in September, Rodgers said they are still contact with a lot of the international partners, who wanted to bring certain events to the Bahamas and they are hoping that those projects will still become a reality in the future.
#"Once persons feel like they can attend events and not get sick and that mentality is embedded in them, I think we will get back to some sort of normalcy and hopefully that will happen before the end of the year."
#Prior to the Bahamas Government shutting down the facilities at the QESC, starting with the cancellation of the national high school track and field championships on day one of the competition last month, Rodgers revealed that the NSA was in the process of sending out tenders for the renovations to the Kendal Isaacs Gymnasium.
#"As you know, it was used as a shelter for Hurricane Dorian for about 5-6 months, so there's extensive work that need to be done," he said. "We were getting ready to do that, then the coronavirus started to spread. We are looking forward to getting back to normalcy very soon and getting some workers in there to start the renovations of the Kendal Isaacs Gym."
#Rodgers, a prominent businessman, came in to office the week just before Hurricane Dorian and although his contract is basically from year to year, he's hoping that the Ministry of Youth, Sports and Culture, under whose jurisdiction the NSA fall under, he will get to continue on as there are some things that he wanted to implement before getting sidetracked by the storm and virus.
#"When you are looking in, you see all these things that you feel could happen, but when you get in and you are looking at things from the inside out, it's a totally different ball game," he stressed. "Although it's an authority, it's a government owned facility and fortunately, we had a great working relationship with the ministry.
#"Unfortunately, we've had two major disasters, which honestly, have disrupted everything that has been put on the drawing board and when I say everything, I mean everything. So your grandiose plans that you have been working on last month, this month and going forward with working with Mike Sands and NACAC and Drumeco Archer and the BAAA, I'm hoping those conversations will come back because they were some great conversations."
#Additionally, Rodgers said the NSA was in contact with a number of other sporting bodies, including baseball with the completion of the new stadium, whose work was also halted, on putting on a number of events for 2020 and 2021.
#"But I am a very optimistic person. I love looking at the glass half full than empty and I have a lot of faith," he insisted. "Because of my faith and my optimism and my glass half full, I believe we have a really good team that once we get back to some sort of normalcy, we will get those facilities up on running.
#"People just have to believe in it. Once people believe in it and eliminate that fear, we can get it done. But things have to happen in order to eliminate that fear. Right now, everything is shut down. Everything is closed. We only have on staff a handful of security officers to ensure that the place is not vandalized and we have some landscaping people to maintain the outside property."
#To the sporting body in general, Rodgers encouraged them to keep the hope and drive alive.
#"Use this time to come up with ideas on how we can bring the sporting community back together," he said. "And that's just not from a safety issue, but how they will market their association or federation to get maximum exposure and bring persons back to that level of normalcy.
#"Everything about sports is contact. Everything, even if you are playing tennis or if you are playing golf. There's level of contact. So my thing is we have to keep the faith, keep the drive and use this opportunity to come up with ideas for your organization and the sporting community in general."
#He noted that obviously when the coronavirus would have subsided, things will not be the same as they were before the disruption. Once they have come up with their ideas and solutions, Rodgers encouraged the sporting bodies to present them to the NSA and the Ministry of Sports so they can wort closely with the execution of their plans.