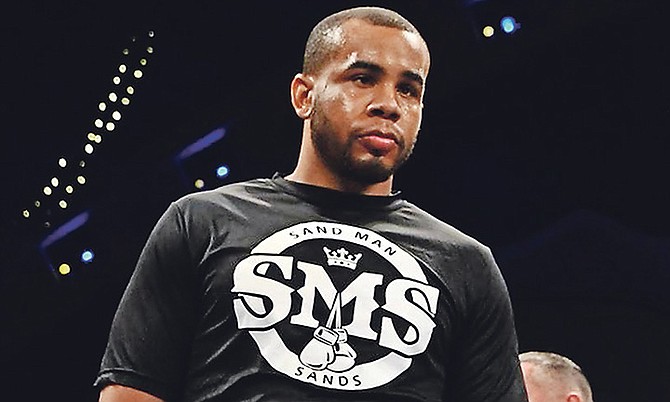 Amron 'Sandman' Sands
As of Wednesday, April 29, 2020
#By BRENT STUBBS
#Senior Sports Reporter
#bstubbs@tribunemedia.net
#Amron 'Sandman' Sands was hoping that this would have been the year that he made his breakthrough as a professional heavyweight fighter until the COVID-19 pandemic knocked him off stride.
#Sidelined at his training base in Orlando, Florida, Sands could only watch as the whole sporting world has been turned upside down with all activities ceased as the pandemic spread like wildfire around the world.
#Yet, Sands said he's not deterred from his goal.
#"There are no fights. Nothing scheduled. All we could do is wait and see what happens," said Sands from the comfort of his home where he resides with his parents and siblings in Orlando. "I am still training."
#The 26-year-old 6-foot, 6-inch former basketball player, said they are under a lockdown from 11pm to 6am or they would be issued a fine.
#But he said he is still allowed to go to the shop and has to wear the mask and practice the social distancing just as it is being done in the Bahamas.
#"I would prefer being here, but I just wish that everybody home in the Bahamas is safe," Williams said. "If I was stuck home, I couldn't do anything because all of my operation is done in the United States. So if I was home, it would have been a serious problem for me with my contract and stuff.
#"So for business reasons, it's best that I be here. But if I had to chose personally, I would have liked to be home."
#If the pandemic had not struck, Sands would have been preparing to fight for a possible minor title that could have helped to propel him into the top 20 ranking. Now, even if the virus ceases, Sands will have to engage in a tune-up fight to ensure that he's ready for a title shot.
#Sands, who was riding a perfect 10-0 win-loss record since he turned pro on August 5, 2017 with a technical knockout over Julio Mendoza at the Lakeland Events Center in Lakeland, Florida, last fought on November 23, 2019 when he stopped Daniel Najera at the Bryan Glazer Family JCC Auditorium in Tampa, Florida.
#He had one fight at home on the initial Back Yard Rumble that was promoted by heavyweight contender Sherman 'the Tank' Williams when he won over Jeffery 'Big Daddy' Butler on May 26, 2018 at the A Social Affair and Convention Center in Grand Bahama.
#The conronavirus, according to Sands, has thrown a "monkey wrench" in his plans, but he will have to take his frustration out on whoever his next opponent is whenever he gets back into the ring. "I know for sure that this year I was supposed to be in the top 20 in the world," he said. "But hopefully we will get over this soon and we can resume what we were doing. "We just need everybody to stay safe and clean so that we can get over this. We need to get sports back to where it was even though we know that it won't be the same with some of the things that they did before."
#Even right now during the pandemic, Sands said his training routine has changed. While he's allowed to do his running in the mornings, he goes to a gym in the afternoon to do his technical workout, but it's confined to just him, so he can't have any physical contact with any sparring partners. "I'm good. I am in shape. If they say Amron we have a fight for you tomorrow, I'll take that because I'm ready," he pointed out. "It's hard to get ready, but when you stay ready, it's so much easier. I'm good. I am in shape and ready to go whenever the calls come."
#Even though he has heard about the concern about contact fighting and the possibility of limiting fights, Sands said there is more an issue of how much people they would allow in a venue to watch a boxing match.
#"My promoter has television rights, so even if the crowd is not that big at a show, they will still have an opportunity to allow people to buy the show to view it," said Sands, who is under contract with Kevin Dever Sports Management. "But I give it until August before boxing starts up again. I don't think we will get to fill up an arena anytime soon with fans. But people will get to buy the screen to watch it. We probably won't have the fans filling the arena until next year."
#With his family safe and secure in their home, Sands sent out a stern warning to the Bahamian people. "Stay inside so we can get this thing over with as quickly as possible," he charged. "Stay inside and stop making all those unnecessary trips. That's the only way that we are going to clear it. "Just listen. It's the same thing they are telling us over here. You don't see people going to their girlfriend or boyfriend because the virus is serious. So stay inside and let's get this thing over with."
#As soon as the virus ceases, Sands said he intends to make a trip home to check on the rest of his family and his friends. But for now, he's abiding by the lockdown curfew rules in Florida.