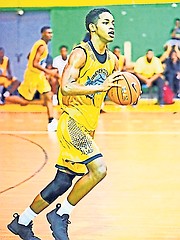 JOSHUA Burrows
#By RENALDO DORSETT
#Tribune Sports Reporter
#rdorsett@tribunemedia.net
#JOSHUA Burrows' athletic and academic career will go the prep basketball route for the upcoming year.
#The former Doris Johnson Mystic Marlin and junior national team player announced his commitment to the Illinois Prep Trojans in Carbondale, Illinois.
#Prep programmes offer student athletes an opportunity and hone their skills during a "gap year" between the completion of high school and the beginning of college or university.
#According to the Trojans website, joining the programme affords student athletes access to top-notch training, coaching and mentorship from coaches with college experience.
#"You will gain experience and exposure by playing national high school teams and JUCO's all without losing a year of eligibility," the organisation said.
#"Our post-graduate programme is for athletes that have completed their high school education but need more exposure in order to receive a scholarship or make a collegiate team. A player's collegiate level is often determined by game performance, work ethic, athletic ability, size for position, and college position needs. This programme allows athletes to take a year off before attending college (also known as a "gap year") without losing any of their four-year eligibility.
#"Athletes in this programme will compete against many of the top prep schools, independent high schools and junior colleges in the country. After 35+ games, players will have the experience and confidence to play at the next level."
#Burrows' local high school basketball career is filled with accolades at every level.
#As a junior, he helped lead the Temple Christian Suns to an undefeated season and BAISS championship.
#After his transfer to the Mystic Marlins, he was a member of back-to-back GSSSA championship teams and also was a member of the school's first Hugh Campbell winning team in programme history.
#At the junior national team level, he was a member of the Bahamas' historic FIBA Centrobasket Under-17 Championship team that won bronze in the Dominican Republic and qualified for the Tournament of the Americas.