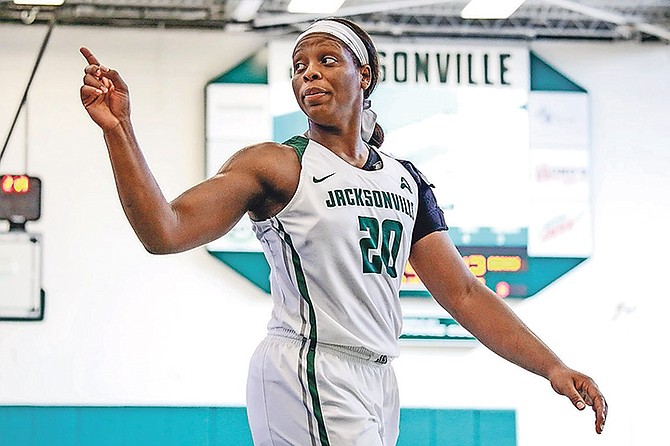 Shalonda Neely
As of Thursday, April 30, 2020
#By RENALDO DORSETT
#Tribune Sports Reporter
#rdorsett@tribunemedia.net
#Bahamian national team standout and former Jacksonville Dolphins women's basketball player Shalonda Neely looks to make the transition to the pro ranks.
#Neely's signing with Flash Agency was announced yesterday. The organisation represents dozens of women's basketball players that participate in leagues throughout Europe and Asia.
#"Shalonda is a versatile four or five player with an elite face-up game. The ASUN conference leader in field goal percentage, Shalonda finishes at an elite level and has good shooting touch in the mid-range.
#"In addition to scoring, Shalonda is an elite out of area rebounder on both ends of the floor," Flash said in her player analysis. "Size, strength and athleticism helps her block shots and get steals defensively which leads to her teams getting out in transition. A great communicator, Shalonda does a good job being the voice and anchor of her team's defence. Shalonda is the consummate team player who finds ways to help her teams win big."
#Neely, the Grand Bahama native, set several career highs this past season, her final as a member of the Dolphins' programme. She averaged 7.6 points and 4.9 rebounds last season for the Dolphins. She shot 61 per cent from the field and recorded 20 steals. On senior night, she finished with 20 points and 11 rebounds – both career highs.
#At the conclusion of her career she was honoured for her outstanding achievements both on and off the court by the ASUN Conference. She was announced as a member of the 2019-20 Winter Winners For Life Team,.
#"This is a testament to Shalonda's character and to what being a student-athlete in our programme is all about," said Dolphins head coach Darnell Haney. "I'm so proud of the impact Shalonda has made on our campus, in the city of Jacksonville, and in her home country.
#"She gets it and I'm glad our wonderful conference recognises that. Salute to her and all of the other winners. It's about making a positive impact, and Shalonda did that both on and off the floor."
#Off the court, Neely also set milestones as the first student-athlete to enter the Master of Science in Clinical Mental Health Counseling programme at Jacksonville. She recorded a cumulative GPA of 3.75.
#In addition to her executive board role on the SAAC, Neely took it upon herself to create a Bahamian Relief Initiative across campus. With this initiative, she partnered with various student-based and university-level organisations to collect thousands of goods and dollars to assist with Hurricane Dorian relief.
#As a junior, Neely made 12 starts and appeared in 30 games. She scored a season-high 14 points on three different occasions and had a season high five blocks. As a sophomore she appeared in 29 contests, and spent the offseason as a member of Team Bahamas in the Centrobasket Women''s Championships.
#In her redshirt freshman season, she made her collegiate debut and played in 27 contests and finished the season with 52 points, 66 rebounds, 11 steals and nine blocks.
#She was recruited by head coach Yolett McPhee-McCuin out of Arlington Country Day where she averaged 12 points and 15 rebounds per game in her junior season en route to the team winning a Deep South Classic Championship title.