As of Thursday, April 30, 2020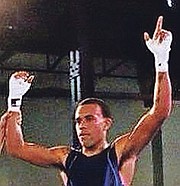 Rashield Williams
#By BRENT STUBBS
#Senior Sports Reporter
#bstubbs@tribunemedia.net
#ALTHOUGH they are under strict curfew laws in the Philippines because of the COVID-19 pandemic, Bahamian Rashield Williams said he feels safe as he continues his journey to becoming one of the top professional super lightweight boxers in the world.
#Williams, 30, left Florida along with his coach, Norman Wilson, in November to resume his training with the view of cracking the top 10 and eventually securing a bona fide deal to fight one of the contenders for a possible world title shot. It's an opportunity he said he couldn't pass up.
#However, Williams found himself in a country where on April 17, Philippine President Rodrigo Duterte threatened a martial law-like crackdown to stop people flouting a virus lockdown in the nation's capital.
#Duterte spoke a day after authorities reported an upsurge of cars on Manila's roads, which have been nearly deserted since a sweeping lockdown was imposed a month ago on about half the country's 110 million people.
#"Everything is good. The condition is good. We basically stay at home every day, so there's really no concern about what's going on in the country," Williams said. "I am basically home just working out and training and then I go back inside."
#Williams, who shares a complex with another boxer from the Philippines, alone with his coach and family, said they basically work out on their porch and when he's not training, he's in communication with his family in the Bahamas or watching television.
#"It's basically just like the same home in the Bahamas," he said. "But I came here with a purpose and that is to develop a name for myself and maybe secure the Asian Pacific title before I go back to the United States and get a major fight for a possible shot at a title.
#"I want to get a ranking over here and that should help me to get in the rankings in the US. It's really nice and quiet over here. Before the virus, we had a lot to do. I could have gone around and seen a lot of things and there was a lot of boxing matches going on."
#Now as a result of the spread of Covid-19 in the Philippines, only essential workers and people buying food or medicine are officially allowed outside their homes, yet many others have flouted the rules. In some places, impoverished day labourers have no choice but to go out looking for work, although police have also reported breaking up social events like amateur boxing matches.
#Police said they have warned or arrested tens of thousands of people caught outside their homes without valid reasons.
#The Philippines has detected some 5,660 coronavirus cases, and recorded 362 deaths, but those figures are expected to climb as the nation ramps up testing.
#Williams said while he's obeying the curfew rules in the Philippines, he wants to encourage Bahamians to follow the instructions from the Bahamas government.
#"Stay inside and be careful. This virus isn't anything to play with," he said. "I see a lot of stuff where people are not obeying the law. But I want to tell them to stay inside and be careful. Over here, after 6pm, if they find you on the streets and you are not supposed to be there, the police could shoot you."
#So far, Williams said he has heard of one person being killed as a result of breaking the curfew, but he's not concerned because he stays inside whenever he doesn't have to come out and train.
#At the same time, he's also trying to learn a little bit of Filipino, their official language, even though they speak English fluently.
#Williams, who had an extensive run as one of the top amateur boxers who represented the country in a number of international competitions, turned pro after he fell short of qualifying for the 2016 Olympic Games in Rio de Janeiro, Brazil.
#He was off to a promising pro career with a 3-1 win-loss record making his debut with a technical knockout win over Carlos Monroy on February 9, 2019.
#After suffering his first defeat at the hands of Javaune James on March 22 that same year, Williams bounced back with a victory over Jurland Ceniza on December 21, 2019. His first fight in the Philippines was on February 6, 2020 when he scored a TKJO over Rege Pahayag.
#With the sports world on lockdown, Williams said he's not certain when he will fight again. But he's in the Philippines preparing for whenever the first opportunity presents itself.