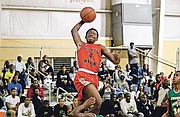 Lamar Watkins
#By RENALDO DORSETT
#Tribune Sports Reporter
#rdorsett@tribunemedia.net
#LAMAR Watkins will have the opportunity to further his athletic career with one of the top prep basketball programmes in America.
#Watkins will join the incoming class of the Putnam Science Academy Mustangs in Putnam, Connecticut, this fall.
#The former St Augustine's College Big Red Machine guard will become the first Bahamian student athlete at the nationally renowned programme which has captured a share of two Prep National Championships in the last three years.
#The coronavirus pandemic brought a premature end to the 2020 Prep National Championship tournament this season but the Mustangs won their semi-final and would eventually earn a share of the title with Brewster Academy.
#Watkins led the Big Red Machine to a runners-up finish in the BAISS Championship series.
#The Mustangs' connection to the Bahamas has included consecutive appearances at the Caribbean Tip-Off Classic.
#In the most recent edition, they finished 3-0 with wins over BC Christian Academy, Ridley Prep, NBA Basketball Academy of Latin America.
#Putnam has placed more than 100 players into men's college programmes since 2010, including more than 50 into Division I programmes.
#With regards to its varsity and postgrad programme – "It presents the perfect vehicle for student-athletes to keep playing and get the exposure they are missing this recruiting season in order to take the next step to the college level."
#Oklahoma City Thunder guard Hamidou Diallo (Kentucky) has been the latest Mustangs alumni to advance to the NBA.