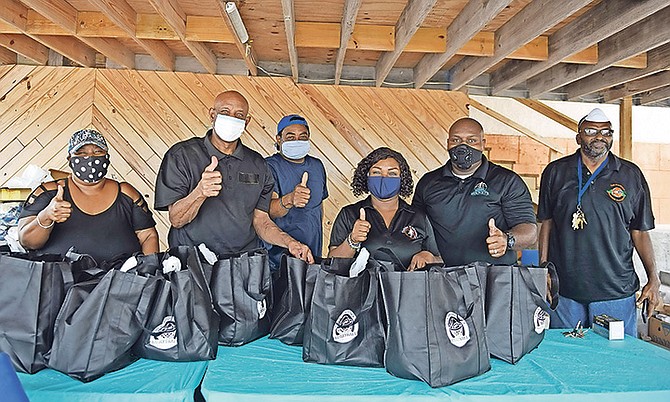 GIVING BACK: The New Providence Basketball Association yesterday held a distribution drive at the City of Praise Church, giving care packages to players and coaches. NPBA executives, including President James Price, are pictured. Photo: Shawn Hanna/Tribune Staff
#By BRENT STUBBS
#Senior Sports Reporter
#bstubbs@tribunemedia.net
#With their season interrupted because of the COVID-19 pandemic, members of the New Providence Basketball Association took the time out to reminisce on what they missed during the past two months.
#The NPBA executives, led by president James Price, hosted a give-away for their players, coaches, managers and officials of the league yesterday at the City of Praise on Cowpen Road.
#While the event was all about showing their appreciation to the participants, it was also an opportunity for many to socialise with each other.
#League public relations officer Moses Johnson commended Price, who heads the executives of Team Next Level, for coming up with the gesture to give back to those persons who make up the NPBA.
#"These are tough times and we know that some of these guys had their work times reduced or they are not working at all," said Johnson, who is also a coach in the league.
#"Our league is made up of a huge demographic, so when we can help one, we can help everybody. We are bonding together. This COVID-19 pandemic has really brought us together and the guys are appreciative about the effort with these care packages."
#Notwithstanding the nature of their gathering, Johnson fully believed that if they had a rim up, they could have done a little exhibition because they had sufficient players, coaches, referees and table officials in attendance to conduct a proper pick-up game or two.
#"We like the fact that everybody is coming out and sitting around or standing up and conversating with each other," he said. "This has been a very humbling experience."
#One of the coaches present, Donnie Culmer, called it a great venture on behalf of the league to give back in this time of need.
#"These are some hard times now with COVID-19 going on," Culmer said. "Most of our players work in the hotel, so this is just a way for the league to give back to them in a time of need. "This is just something to give them so they can feed their families and get a belly full.
#"It's better than not getting anything at all. So I'm happy to see the league reaching out to everyone like this."
#Culmer, however, said they are ready to get back on the basketball court. With protocol already established, Culmer said they have to make sure that everybody is safe.
#"Hopefully we can start playing again very soon," said Culmer, who moved his three-time division II champions Breezes High Flyers up to division one where they are waiting to play against the three-time defending champions Commonwealth Bank Giants in the postseason whenever they resume competition.
#For Giants' point guard Michael 'Ferly' Bain Jr, it's the thought that counts the most as he too sang the praises of the league's executive team, despite the fact that he was ejected for the first time out of the last game he played in before the break. "I think it's very helpful, very thoughtful," he said. "No matter what's in it, it's the thought that counts because a lot of people need a lot of help in this pandemic.
#"These are serious times, but it shows that we still have each other's backs. It's a competitive sport, but it's moments like this that brings us closer together."
#And it's that camaraderie that Bain Jr hopes will be exhibited whenever they return to the basketball court. "We hope we can finish this season off strong and get back to full competition," he said. "Individually as a club, we try to challenge each other to stay in shape so that we can be in tip-top shape for the playoffs when the league reopens.
#"We're just waiting for things to clear up so that we can start working together as a team again. Hopefully it won't be too long now. But whenever it is, we hope to be ready to go after another title."
#With restoring lives through the pandemic first and foremost on the minds of all those present, the league took the time to say thank you to its players, coaches, managers and officials.
#And while some Bahamian residents stopped by to find out if they were able to secure a package for their families, there were some who commended the league for the initiative.
#Price, Johnson, league secretary Rochelle Kemp and other executives on hand say they could not have done it without the support from the teams that make up the league.
#As the first league in New Providence to give back to its players, coaches, managers and officials, it was a gesture well done.