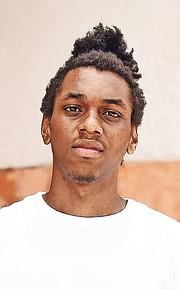 Shakwon Lewis
#By BRENT STUBBS
#Senior Sports Reporter
#bstubbs@tribunemedia.net
#AFTER advancing to the California Community College Athletic Association's regional state playoffs just before the COVID-19 pandemic shut down the rest of the postseason, Shakwon Lewis said he was content with his freshman year with the Butte College Roadrunners men's basketball team.
#Once the pandemic ceases and everything goes back to normal, Lewis is looking forward to returning to Chico, California, where he is expected to be joined by the incoming freshman class that includes Grand Bahamians Rolante Knowles and Oswald Meadows out of the Sunland Baptist Stingers' programme, headed by coach Jay Phillippe.
#Lewis, back home before the Bahamas government closed the borders for international travel to prevent the spread of the virus, said he had a great time playing under Russ Critchfield, who completed his 22nd season as the Roadrunners' head coach and his 50th overall.
#"He has a wealth of knowledge and he was able to help me out tremendously with my game," Lewis said. "I was also able to open the door for two more Bahamians, who we were able to recruit from Sunland Baptist. So I'm looking forward to what we will do next year."
#This past season, Lewis helped the No. 12 ranked Roadrunners to a 16-11 win-loss record before they fell 87-64 to the No.5 ranked Sequoias in the junior college regional playoffs on February 28, eliminating them from the Final/State championships that was not completed in March, due to the shutdown of all sporting events.
#Lewis, a graduate of the famed CI Gibson Rattlers programme headed by Kevin 'KJ' Johnson and a former member of the Bahamas senior men's national basketball team, said he was proud to have displayed his skills at Butte College.
#"College basketball is more systematic. It's more about studying the game. It's a mental process," Lewis said. "The game is faster, but it is slower at the same time.
#"You have to get into the weight room, lift more weights because it's a lot of contact on the court. It's more like a chess game that you have to play."
#Based on what he's seen from Knowles and Meadows during the prestigious Hugh Campbell Basketball Classic as they helped the Stingers to capture the coveted title in February, Lewis said he's confident that they will both come in and fit very well into the scope of things at Butte College.
#"As Bahamians, we come hungry. The United States' players can get offers to go and play anywhere," Lewis said. "But with our background from the Bahamas, we come ready to play and we represent because we know that while doors have been opened for us, we have to do the same for others who are following us."
#Knowles was the Stingers' leading scorer this past season and emerged as one of the top shooters and all-around offensive talents in the country.
#Meadows, on the other hand, was a junior national team standout and member of the Bahamas' historic FIBA Centrobasket Under-17 Championship that won bronze in the Dominican Republic and qualified for the Tournament of the Americas. He led the team in assists at 4.3 per game.
#Lewis, a 5-foot, 9-inch point guard, averaged about 12 points and five assists in his freshman year for the Roadrunners. He was one of the top conference performers in steals and was named to the All-Conference Defensive team.
#"We had a good team," said Lewis about making it to the state tournament before the coronavirus put a dent on its completion. "We just have to get ready for next year with the new players coming in once we get past the virus."
#Home now for an extended summer break, Lewis helped his father, Davos Lewis – an official in the New Providence Basketball Association – as they gave out care packages to the players, coaches and managers of the league on Thursday at the City of Praise Church on Cowpen Road opposite Island Luck.
#Lewis said it was an honour to help out, but he's looking forward to the day that they can resume life as they did before the virus spread around the world.
#"It's good to be able to come home and spend some time with your family after being away from them for a while," he said. "I'm just enjoying this time because you normally don't get everybody in the house at the same time for this long.
#"So it was a good experience to be here in the lockdown and the curfew enjoying each other's company."
#And while the country is under a 24-hour curfew and weekend lockdowns, Lewis said he hopes that he can get back in the gym and shoot some hoops.
#"I've noticed that there's a lot of players back home, so once the gyms are opened, hopefully we can mix and mingle with those players who didn't get to go off and play some organised basketball," he said.
#"For now, every morning I wake up, I exercise and go on the outdoor basketball court and work on my fundamentals. I'm in college now, so I have to continue to stay sharp so I will be ready to continue to play at the level that my coach expects when I return."
#At age 23, Lewis got off to a late start in his collegiate career, but he encouraged the local players to never give up on their dreams.
#"It took me a little while to get off to school because of my US visa being denied, but I want to encourage them to keep their dreams alive," he said. "You never know what God has in store for you. Just keep focused and never ever give up on your dreams. You never know when your chance will come to make it."