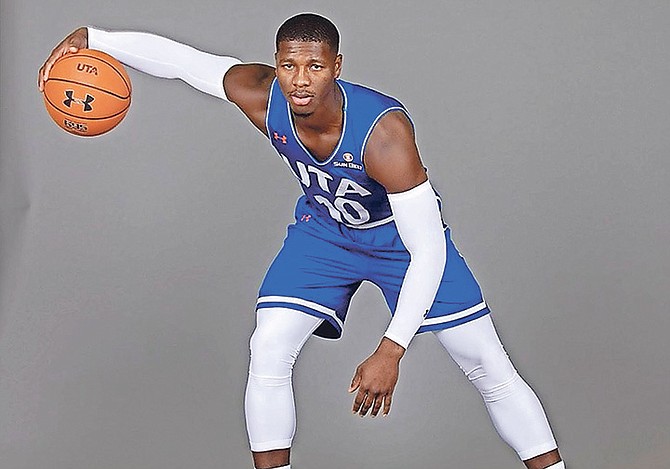 RADSHAD Davis will transfer to the Florida International University Panthers.
#By RENALDO DORSETT
#Tribune Sports Reporter
#rdorsett@tribunemedia.net
#RADSHAD Davis will conclude his collegiate basketball career playing the closest he has been to the Bahamas since he left years ago to complete his high school education.
#Davis will transfer to the Florida International University Panthers as a graduate transfer for the upcoming fall campaign and will be immediately eligible to play this season.
#Davis has opted to transfer from the Texas-Arlington Mavericks following a two-year stint in the Sun Belt Conference.
#The 6'4" wing chose FIU over several programmes that expressed interest, including BYU, SIU, Portland State, New Orleans, James Madison, Morehead State, Morgan State, New Mexico State and others.
#Last season, FIU finished the season at 19-13 and concluded the season with a win in the opening round of the Conference USA tournament.
#The Panthers were ranked fifth in the tournament and advanced to the quarter-finals after they defeated the 12th seeded Rice Owls 85-76. It was FIU's first at the C-USA Tournament since 2015.
#Last season, the Mavericks were eliminated in the opening round of the Sun Belt Conference tournament as their season came to an end with a loss to Coastal Carolina and fellow Bahamian Ahmard Harvey. Davis finished with seven points and five rebounds in 17 minutes. He concluded his final season with the Mavericks with averages of 8.6 points and 6.2 rebounds per game on the season.
#He posted two double doubles on the season highlighted by a season-high 19 points and a career high 14 rebounds to lead UTA to a 78-58 win over the Warhawks in the second meeting of the season. He also reached a personal milestone in the game when he highlighted his stellar performance by reaching 1,000 career points.
#As a junior last season, he averaged 8.0 points and 5.5 rebounds per game. He finished second on the team in field-goal percentage at 51 per cent and shot 78 per cent from the free-throw line. Prior to UTA, he played at the JuCo level with the Missouri State University-West Plains Grizzlies.
#As a sophomore, he averaged 16.5 points, 6.7 rebounds, 3.4 assists and 1.3 steals per game against all opponents. He finished second in the region in both scoring and rebounding. He also received All-Region 16 first team.
#Davis starred locally for the CC Sweeting Cobras when he was named Hugh Campbell MVP in his 10th grade year. He matriculated to Sunrise Christian Academy in Bel Aire, Kansas.