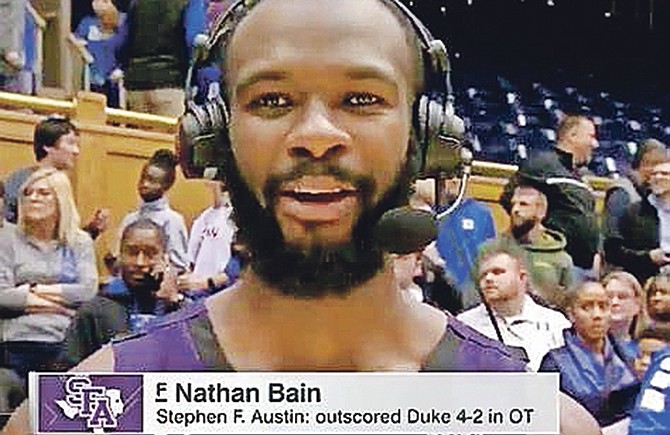 #By BRENT STUBBS
#Senior Sports Reporter
#bstubbs@tribunemedia.net
#It's not every day that a Bahamian basketball player gets to hit a momentous, game-winning shot for his team to pull off one of the biggest upsets in college basketball. The performance was so significant that Nathan Bain will get his Stephen F Austin Lumberjack jersey and tennis shoes donated to the Naismith Memorial Basketball Hall of Fame.
#The purple number 23 jersey and the size 15 Under Armour black tennis worn by Bain when SFA beat Duke 85-83 in overtime on November 26, 2019, was shipped off to Springfield, Massachusetts, to be on display in the Hall's museum, which is currently closed to the public due to the coronavirus pandemic.
#Rewind to the historic performance with seconds left in overtime when Gavin Kensmil grabbed a lose ball and tossed it to Bain. All the Grand Bahamian native did was race down court to their basket to score the buzzer-beating layup, snapping Duke's 150-game winning streak at home against non-conference opponents.
#Fast forward to last week in Nacogdoches, Texas when Bain presented the team outfits to head coach Kyle Keller, who said "it is like the gift that keeps on giving. Hopefully that game will live forever. It is a memorable thing," as he agreed with Bain to present the items to Hall of Fame.
#For Bain, who continued to make headline news when he established a GoFundMe page to help his family, including his father basketball coach Norris and mother Ashell Bain, raise over $150,000 to assist them after the destruction left behind by Hurricane Dorian last year, said he's delighted to be a part of history. "They had called and my coach told me that they had requested it since the game against Duke," he told The Tribune. "It was the first time in years that Duke had been beaten by home, so they wanted to put a piece of the game inside the Hall of Fame."
#What startled Bain was the fact that he was considered for the honour. "It's not every day that anyone gets to go into any Hall of Fame, which means the Naismith Hall of Fame," Bain said. "They could have picked anybody on our team, so to be honoured by going into the Hall of Fame is something that I will cherish for the rest of my life."
#Through a video presentation at SFA, Bain made the presentation to Keller, who shipped it off to Massachusetts. While Keller is not sure how the jersey and shoes will be added to the display, Bain said he's looking forward to adding a trip to Massachusetts to his bucket list to "view it."
#Keller, by the way, has been to Massachusetts before. He went there in 2017 when his former boss Bill Self was inducted into the Hall of Fame. Keller is expected to return this fall when another one of his former bosses, Eddie Sutton, is inducted.
#But no doubt, he's looking forward to seeing a part of the history he helped to create with Bain when his items are put on display. It's something that Bain said "you don't think about when you are playing, so I'm just glad that I did it, especially in my final year at Stephen F Austin."
#This was Bain's final year at Stephen F Austin as he prepares for his virtual graduation ceremony on May 30 as he receives his degree in kinesiology with a minor in health science. The 25-year-old, who stands at 6-feet, 5-inches and is a 205-pound forward, is also gearing up for his future as a player and a family man.
#"Right now, everything is on hold, so I'm just trying to stay busy," said Bain about his next step in the sport. "I've talked to a few agents who are working on getting me a deal overseas. I have to sign with one of them at some point."
#Back on Senior Night at SFA on March 7, Bain officially proposed marriage to his girlfriend, American Lyndsee Lemacks, who gladly accepted and now they are planning a July wedding. Although they have a specific date, he indicated that as a couple, they have scheduled a ceremony in Texas and another in Grand Bahama so all of their family and friends can share in the occasion.