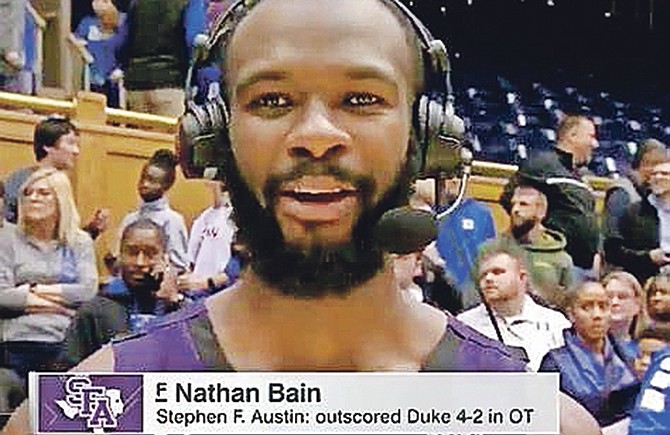 #By RENALDO DORSETT
#Tribune Sports Reporter
#rdorsett@tribunemedia.net
#A season of historic milestones for Nathan Bain and the Stephen F Austin Lumberjacks will be marred by NCAA violations centred around improprieties in the academic certification process for several student athletes.
#The NCAA cited a lack of institutional control in the Lumberjacks' Athletic Department and found that 82 student athletes across nine sports, including football, men's basketball, baseball, men's track and field, women's track and field, softball, women's volleyball, women's golf and men's cross country, competed while ineligible.
#Lumberjacks athletic director, Ryan Ivey, brought the infractions to the attention of the NCAA in the Spring of 2019. In a zoom virtual press conference Wednesday afternoon, Ivey pointed out that the 2019 men's basketball historic win over the Duke Blue Devils was not affected. He noted that the current team has a collective 3.21 spring semester GPA and logged over 3,000 hours of community service.
#The infractions took place from 2013-2019 and over that time period, subsequently, the Lumberjacks will vacate 117 men's basketball victories from 2014 to 2019.
#Included in the vacation of wins are conference championships in men's basketball in 2014-15, 2015-16 and 2017-18, as well as the programme's First Round win in the 2016 NCAA Tournament. The banners recognising those achievements will be removed from William R Johnson Coliseum.
#The school's programmes will also vacate 29 football wins from 2013-2019, 112 baseball victories from 2015-2019, 31 softball victories from the 2018 season, and adjusted conference championship scores from women's golf, women's track and field, men's cross country and men's track and field.
#In addition to the vacated wins, the Lumberjacks received three years of probation, a $5,000 fine and 0.5 per cent of the total budgets for football and men's basketball, the return of 50 per cent of the programme's financial share earned from their participation in the 2016 NCAA Tournament.
#Their ability to recruit will also be affected with a 2.5 per cent reduction in scholarships for football for the next two seasons, a five per cent reduction in baseball in either 2020-21 or 2021-2022 and the loss of one scholarship in men's basketball in either 2020-2021 or 2021-22.
#"The university was found to lack institutional control because it did not adequately monitor and control the athletics eligibility certification process, failed to properly apply academic certification rules and did not involve staff members from outside of athletics in the certification process," according to a press release from the NCAA.
#"The agreement also noted the university did not withhold ineligible student-athletes from competition and did not promptly detect and report the certification violations to the NCAA."
#Ivey issued a press release discussing negotiated resolution agreement between SFA and the NCAA.
#"In the Spring of 2019, a member of our athletics department discovered that the process by which our student-athletes were being certified as academically eligible was not properly accounting for all NCAA requirements.
#"The primary issue was that former department personnel responsible for the certification process were incorrectly counting all semester credit hours to determine academic eligibility instead of counting only degree-applicable credits, as prescribed by NCAA rules," he said .
#"This error – and other similar errors – resulted in 82 student-athletes being improperly certified for competition over a period of six years, from 2013 to 2019, meaning 82 student-athletes competed while ineligible for SFA in the sports of football, men's basketball, baseball, volleyball, softball, women's golf, men's and women's track and field and men's cross country. The athletics department personnel responsible for the incorrect certifications are no longer a part of SFA Athletics." Earlier this month, it was announced that Bain's heroics in the aforementioned win over the Blue Devils will be permanently enshrined in the Naismith Memorial Basketball Hall of Fame.
#Bain's No.23 jersey and sneakers he wore when his buzzer-beating layup capped one of the most improbable upsets in college basketball history will be on display when the Springfield, Massachusetts-based Hall of Fame reopens following the COVID-19 pandemic.
#"This is something you dream about as a kid," Bain said to the KTRE – the ABC affiliate in Nacogdoches, Texas. "They say, 'wherever you go try to leave your mark. Leave your legacy.' I don't think there is anything better than leaving your mark inside the Hall of Fame."
#On November 26, 2019, Bain raced up court to finish a layup just before time expired to lift his unranked Lumberjacks to an 85-83 overtime win over then No.1 Blue Devils, the biggest upset in NCAA Division I basketball of the last 20 years. The Blue Devils came into the game favoured by 27.5 points making it the largest betting spread for a no.1 seed to suffer a loss. Duke had never lost to a mid-major team when ranked No. 1 until that loss at Cameron Indoor Stadium. SFA's win ended Duke's 150-game non conference home winning streak. It was also the first time since 1983 that Duke has lost to an unranked mid-major team.
#In the game, Bain finished with 11 points, five rebounds and three steals. He recently graduated from Stephen F Austin with a degree in kinesiology.
#As a result of the shot, Bain was featured on a myriad of American media outlets and became a national story chronicled by ESPN Sportscenter, Good Morning America, and CNN.
#In September the Lumberjacks established crowdsourced fundraising through a GoFundMe account to assist the Grand Bahama native's family in the fallout from Dorian. Over the course of approximately two months, the page raised just over $2000 but since Bain's game winning layup, it became the most popular page on the GoFundMe platform. It eventually raised $151,740.
#"In the moment you are not thinking of any of that," Bain said. "You just want to get the shot off and go back home to Nacogdoches. It is crazy to see all this stuff happening from the one shot. A lot of people look and say this is a great way to end the story. I still want to make money. I want to work, I want to play basketball or something in regards to my degree plan. I have so much more to get done for life. College for me was five years. I have the rest of my life. Hopefully just take advantage of all the events that transpired and build upon them for the future."
#As a true freshman, Bain saw time in 24 of SFA's 34 contests.He posted averages of 2.4 points, 2.1 rebounds and 7.5 minutes per game. As a sophomore, he suffered a back injury that significantly shortened his 2016-17 season. He took part in only three games for SFA before getting sidelined and receiving a medical redshirt. As a redshirt sophomore, he appeared in 24 of the 'Jacks' 35 games and averaged 2.0 points, 0.8 rebounds, 0.3 assists, 0.5 steals and 0.3 blocked shots in 6.4 minutes per game. Last season, Bain averaged 5.8 points and 4.1 rebounds per game in his junior season, both career highs.
#"The Hall of Fame reached out and asked for anything they could have from the game and if we could send it after the season so they could have it displayed inside the hall. It is like the gift that keeps on giving. Hopefully that game will live forever. It is a memorable thing," Lumberjacks head coach Kyle Keller said, "The hall has great artifacts and to know the university is represented is something we should all be proud of."
#In the postgame interview reflecting on the moment, he recalled the moment he saw teammate Gavin Kensmil with an opportunity to get the ball and an opportunity to make history.
#"On the last play, I saw my teammates battling for the rebound. I knew he was going to get it, I was preparing myself to go into another overtime to go to battle against these dudes who I give credit to, Duke is the mecca of basketball so I give credit to them," Bain said, " But when I saw my teammate grab it, I looked up at the clock it was about 4.6 seconds so I thought to myself, "I had to get on my horse' I know he saw me so I just had to go as fast as I can to get the layup, it was like a layup drill. I could feel dude on my back so I just laid it up and prayed to God that it went in."
#The Lumberjacks had one timeout remaining but opted not to use it with Bain's clear path to the basket, despite just over 4four seconds left on the game clock.
#"I was confident, I just wasn't sure if the dude was going to foul me or not at the end so I just wanted to get it on the rim to give us a chance," Bain said, "You do layup drills from the time you pick up a basketball and this is just another one, "but's a different pressure when someone is chasing you down for the game."
More like this story