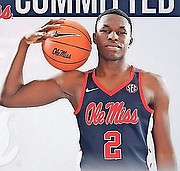 Sammy Hunter
#By BRENT STUBBS
#Senior Sports Reporter
#bstubbs@tribunemedia.net
#AFTER his freshman year ended without a trip to the prestigious NCAA Basketball Tournament, Sammy Hunter is looking forward to returning to help the Ole Mississippi University Rebels regain its prominence during his sophomore year.
#Home since March, Hunter said he's taking advantage of spending some quality time with his family and friends before he returns to Mississippi in August, once everything clears up with the coronavirus, the borders are opened for travel and sports around the world resume.
#"This coronavirus ain't nothing to play with," said Hunter as he enjoyed the company of his parents Andrew and Sophia Hunter. "It's been good being home and spending this time with my family. I don't get to see them as much as I did during this period. So I'm really glad that I am home, even though it could have been under better circumstances."
#Although he has been obeying the curfew laws initiated by the Bahamas government to contain the spread of the virus, Hunter said he was relieved that the professional athletes were allowed to resume their training.
#He has taken advantage of the opportunity to work out in the AF Adderley Gymnasium with a few friends.
#"Everything is going good," Hunter said. "I needed that break to get back in the flow of things before I go back to school.
#"Although things didn't work out in their favour, missing a chance to compete in the March Madness Basketball Tournament, I feel we will have a better team to get there this year," he said.
#The Rebels finished the year at 15-17, losing their final game at the season 81-63 to Georgia in Nashville, Tennessee, on March 11 in the SEC Tournament, which eliminated them from advancing to the March Madness.
#Hunter, who started in just one of the 27 games he played for the Rebels, averaged 11.4 minutes per game. He shot 29-for-71 from the field for an average of .408, was 1-for-8 from the three-point line for a .125 average, canned 19 of his 27 free throws for a .704 average and scored a total of 78 points for a 2.9 average.
#He also contributed a total of 37 rebounds, 23 on the defensive end, dished out 11 assists, stole six passes and blocked shots.
#"We just need good chemistry because we have a very good team. If we can just build on our chemistry, we will be fine."
#If there's any consolation for Hunter and the Rebels, the tournament was cancelled, just like every other major sporting event around the world to help combat the spread of the virus. As a result, the NCAA was not able to crown a national champion this year.
#"We have some good players coming in this year, so we should be pretty good," Hunter said. "Coach feels that we have a pretty good team so we feel we should get to the NCAA Tournament this year."
#Hunter said Davis has challenged him to come back to Ole Miss "fit and ready" to improve his game.
#"He continuously tells me to just develop all aspects of my game," said Hunter of Davis, whom he remains in constant contact with through social media. "He wants me to be a better defender. I believe that as long as I rebound and defend more, coach will trust me more and put me on the court more."
#Looking back on his first season after he made the adjustment from British Columbia Christian Prep in Canada, Hunter said it could be considered a learning experience.
#More importantly, he said he got to understand what it means to play at the division one level and respecting the people who could support them. "There was a kid named Henry who came to all of our games," Hunter said.
#"He was always there to watch us and support us. It was so much fun making friends with him."
#And if there was anything that Hunter would prefer to discard from his initial college season, it would have been his first game as a Rebel.
#"Air balls, left and right. That was what I showed in my first game," he recalled.
#"Two air balls. I didn't even score in that game. My coach pulled me aside and said a lot of freshmen do that. I said yeah coach that won't happen again. I like coach. He's cool."
#Hunter said he has developed a great relationship with Davis and he's confident that he would guide him in the right direction as he slowly makes the transition from being a top notch high school player, who averaged 27 points, eight rebounds and three assists per game at British Columbia Christian Prep.
#The highlight of Hunter's high school career came when he was named MVP of the Signature All-Canadian Showcase, which featured the top seniors in Canada.
#In that game, Hunter scored 18 points with five rebounds and two block shots. "From high school to college, you basically get to do whatever you want," Hunter said. "You just have to learn how to manage. This semester, I did pretty good in school. I got a 3.85 average in my classes. So I just had to learn how to manage my time and keep away from the distractions," he said.
#The 19-year-old sport and recreation administration major said once he can get better in practice, he should become a much better player on the court.
#"Coach told me once I get better in practice and I can show my true potential, I will be alright," Hunter said.
#Hunter was hoping that he would continue to play alongside Grand Bahamian Franco Miller, another freshman who played sparingly at Ole Miss. But Miller decided to exercise his NCAA transfer portal and will be moving on elsewhere to play.
#"Anytime you can play with another Bahamian in college, it's a great opportunity," Hunter said. "But things happen. He is doing what's best for him. I wish him every success in whatever decision that he makes."
#Hunter, however, said he still has another Bahamian to rely on in coach Yolett McPhee-McCuin, who is in her third season as the head coach of the women's basketball team at Ole Miss, which also features the return of Bahamian point guard Valerie Nesbitt. "She's a Bahamian and she's competitive, so it's always good to watch her coach her team, even though they didn't have such a good season due to some injuries and Val coming off the team for a bit," he said. "But she's a good coach and they should have a great team moving forward."
#As Bahamians, Hunter said McPhee-McCuin encourages him a lot to represent the country at the best of his ability.
#During the summer, Hunter played on his first senior men's national team at the age of 17 at the 2018 Central American and Caribbean Games. He also played for the team against a pair of AAC teams where he averaged 18.5 points and 6.5 rebounds per game, including an 18-point effort against North Carolina.
#Prior to that, Hunter made the Caribbean Tip-Off Classic All-Tournament team by averaging 33 points per game, which included a single game high honours of 40 points. He also played on the Bahamas junior men's national team at the 2017 Centrobasket Under-27 Championships where he averaged 14.6 points and 6.8 rebounds.
#Additionally, Hunter was a member of the Bahamas' CBC U-16 championship team.
#As soon as the Bahamian economy is opened up and things start to get back to normal, Hunter said the first thing he would like to do is get back in the gym and prepare for the upcoming season. "When I get back to school, all I have is work, work and more work to do so that I can show them what I am capable of doing," he stated.