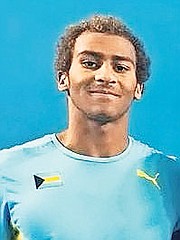 Izaak Bastian
#By RENALDO DORSETT
#Tribune Sports Reporter
#rdorsett@tribunemedia.net
#IZAAK Bastian continues to receive academic accolades for the past season, most recently by the College Sports Information Directors of America.
#The Florida State Seminoles sophomore was named to the organisation's 2020 Academic First-Team All-District team which recognises the nation's top student-athletes for their combined athletic and academic achievements.
#"Izaak is a model student-athlete," FSU head coach Neal Studd said. "He's one of those kids you want 10 more of on your team. We emphasise the importance of working hard in the classroom and that's reflected in our team GPAs this year. I am so proud of Izaak for what he's done both in and out of the pool this year."
#Bastian, along with other First-Team selections from district four, (which includes NCAA Division I institutions from Alabama, Georgia, Florida, South Carolina and Puerto Rico) will advance to the CoSIDA Academic All-America ballot. Academic All-America honourees will be announced from June 16-19. He was also a member of the 2020 All-ACC academic team.
#In the pool, Bastian was named an All-American by the College Swimming and Diving Coaches Association of America for 100 Breast, and 400 Medley Relay. Within the Seminoles programme he was also given the Coaches' Award.
#At ACC Championships, Bastian highlighted his performance with a pair of medals, including a bronze medal in the 100 breast.
#He reached the medal podium in a personal best time of 52.36 seconds. He now stands at second all-time in Seminoles history, several tenths off the record of 52.11 set in 2015.
#It was the first individual ACC Championship medal of Bastian's two-year collegiate career. Bastian also swam the 50 free and finished 25th overall in 20.02.
#He was also 14th overall in the 200 breast in 1:57.42. He was also a member of the silver medal winning 200 medley team that finished in an NCAA provisional time of 1:24.51. Bastian split 22.93 on his leg of the relay.