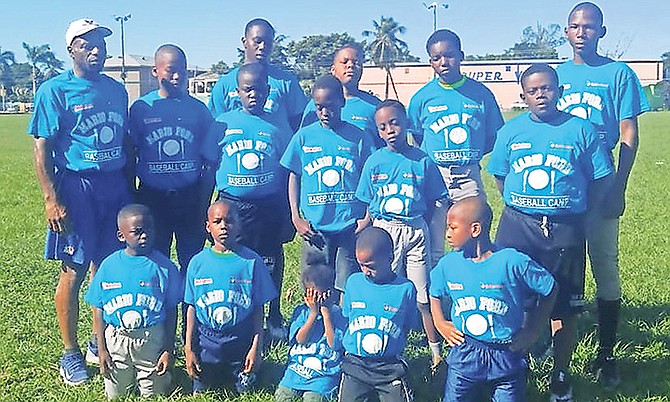 Mario Ford, far left, shares a special moment with the campers.
#By BRENT STUBBS
#Senior Sports Reporter
#bstubbs@tribunemedia.net
#FOR the past three decades, Mario Ford has spent a considerable amount of his time teaching so many youngsters the game of baseball at his homestead on Windsor Park, a place where he and his family were able to hone their skills in becoming some of the most successful players to participate in the sport, along with softball.
#However, the spread of the COVID-19 pandemic and the Bahamas government's decision to shut down all community parks has put a damper on Mario Ford's camp, which is now into its 34th consecutive season, so much so that Ford himself isn't sure how he will proceed once the all-clearance is given to resume sporting activities in the country and the social distancing and the wearing of masks in public that has become the new normal way of living.
#"We would have finished our first session last week and would have been preparing for our summer session in July," Ford said. "But this pandemic has changed all of that right now.
#"Moving forward, we have to go through this wait-and-see period of things would turn out and then we can look at how we will proceed because we have to take in consideration that safety comes first."
#Once the safety measures are explained by the health officials as they proceed into the new norm of sports in the country, Ford said he will have to sit down with the parents and chart the way forward.
#"We may have to have the parents come out and be around with the kids so they can help keep them safe during their programmes," said.
#Ford anticipates that it will definitely not be business as usual. For the past 34 years, Ford has been instructing young boys and girls between the ages of four and 15 in the art of the game. But whenever there are players who show up outside of that range, Ford said he tries to work with them as well. "I wanted to teach them the basic fundamentals of the game so that when they move on to the next level, they would have a foundation to build on," he said. "Once they move up, they will have different coaches teaching them different strategies to get them to where they need to be.
#"So it's just been my drive to help them to learn the game from an early age, while interacting with other kids and being able to take advantage of the opportunities that are now afforded so many of our players to earn scholarships or to play at the professional level."
#This year's camp got started in February but was forced to shut down in March when the government put the restrictions on mass gatherings of sporting events to help curb the spread of the coronavirus.
#"I think this is something that caught everybody off guard, but the measures that the government has put in place is inevitable," Ford said.
#"We just have to work along with what's going on because it's not only in the Bahamas, but it has affected sports worldwide.
#"It's tough because I think we're still learning how to deal with this coronavirus. We just have to take it one day at a time and confront the issues as it comes because every day there is a different challenge."
#Ford, a former national team baseball, softball and cricket player, said he decided to continue with his programme every year so as to provide an avenue for the inner city children to participate in the game if they can't afford the financial means to be a part of the Freedom Farm in Yamacraw or the Junior Baseball League of Nassau at the Field of Dreams at St Andrew's School. "I decided to split up and do the camp three times a year so that I can give the players more time to develop their game," Ford said.
#"So rather than having the camp in June and July, I split it up from February to May, then July and then come back in September and October."
#And although it's a self-help programme with a grant from the Ministry of Youth, Sports and Culture and a few companies who assist financially, Ford said it has been beneficial with more than 50 participants registered on a yearly basis.
#"If they are going to improve, they need to be playing baseball on a daily basis," Ford said.
#"I don't think we give them enough baseball to play because some of them play other sports as well," he said.
#Wherever feasible, Ford takes a team to Grand Bahama where they get to participate in the Bahamas Baseball Association's National Tournament that has been postponed because of the coronavirus.
#Like everybody else, Ford said he's abiding by the 24-hour curfews and weekend lockdowns by staying at home where he's staying in constant contact with his family members and those in the baseball fraternity.
#He noted that he just has to decide how he will proceed once he's given the green light by the government to resume sporting activities in the country and more pre